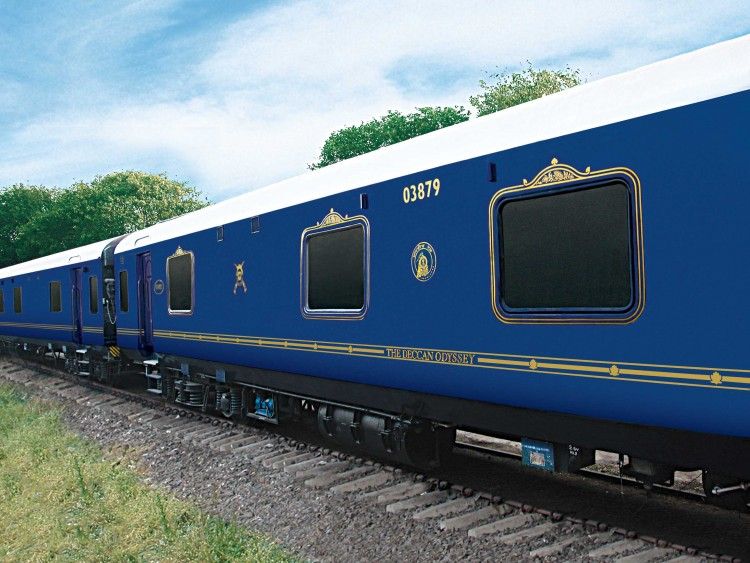 The Indian Maharaja is a new and more luxurious version of the Deccan Odyssey. The train started operating in November 2009. It's got more frills than the original Deccan Odyssey and a new route from Mumbai to Delhi, through Rajasthan.
Indian Maharaja Journey Duration : Seven nights/eight days.
The Indian Maharaja Destinations : The Indian Maharaja destinations which mesmerizing to its guests include Daulatabad, Udaipur, Sawai Madhopur, Jaipur, Fatehpur Sikri, Agra and New Delhi.
1.Mumbai: City of Dreams
2.Daulatabad: The city of prosperity
3.Udaipur: Venice of the East
4.Sawai Madhopur: Home to Project Tiger
5.Jaipur: The city of victory
6.Fatehpur Sikri: The relics of a regime
7.Agra: The city of emperors
8.Delhi: The capital city
The Indian Maharaja Fare : Maharaja Train is provided in three categories - Silver, Gold and Platinum. The fare of the Indian Maharaja for single and double occupancy in all three categories is mentioned below for your assistance. Below mentioned prices are valid from October 2012 till April 2013
The Indian Maharaja - Deccan Odyssey tariff valid till April 2013
Occupancy Type Silver Class Gold Class Platinum Class
Single Occupancy USD 950 USD 1110 USD 1590
Twin Occupancy USD 595 USD 695 USD 995
(Festival Season Offer) Get Minimum 5% Discount on Select Departures
Find here some images of guest carriages, facilities, tour attractions, destinations, cabin interiors, train exterior and staff.