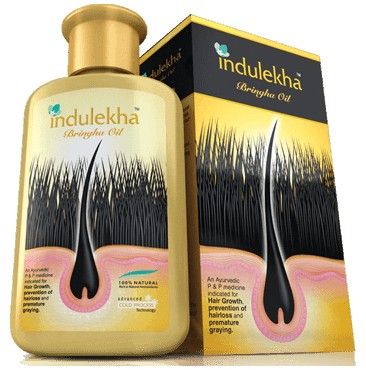 Copyright: Indulekha
Hair has been considered as one of the attributes that adds to the physical attractiveness of a person. Discovering how to make hair grow faster can be difficult, especially if we want to go the natural way. "Indulekha Bringha" or simply "Indulekha Hair Oil" is a complete Ayurvedic solution to all modern day hair problems.
A Rare Concoction of Natural Elements
Indulekha Bringha hair oil is a unique combination of specific herbs that are mentioned in traditional Ayurvedic texts to promote hair growth. Indulekha Oil is composed of Bringha (Eclipta Alba), Swethakudaja (Wrightiatinctoria), Aloe Vera (Aloe barbadensis), Amaliki (gooseberry) (Emblicaofficinalis) and Neem (AzadirachthaIndica).These herbs have been widely used as effective elements to enrich hair growth for centuries.
For Complete Hair Care
Choosing the right hair care products plays a key role in promoting hair growth and preventing excessive hair fall. Indulekha Bringha oil is an Authentic Ayurvedic solution for total hair care. It enhances hair growth, reduces hair loss, and prevents premature greying. Bringha is prepared with 100% natural herbs in a base of pure virgin coconut oil to provide total hair repair and ensures your hair is nutritionally enriched. Since it is completely based on natural herbs and extracts, Indulekha Bringha hair oil is devoid of side effects and it suites to all people irrespective of age or gender. Without doubt you can go for Bringha as a solution to all your hair problems.