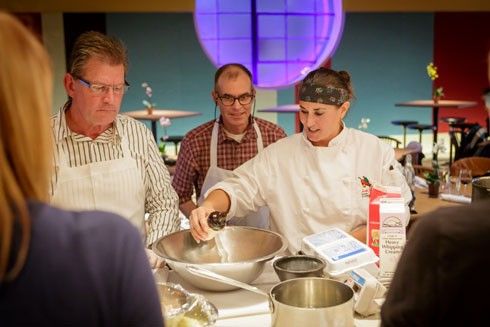 Courtesy Santa Fe School
Santa Fe is a one of America's greatest meccas for authentic regional cuisine.  It's food heaven nearly everywhere, from the world's first – and arguably best – breakfast burrito at Tia Sophia's, to the James Beard Foundation Award-winning Red Chile at The Shed, to the world-class, 28-Day Dry-Aged Ribeye at The Old House and Agave Lounge, and the best green chili cheeseburgers on the planet.
But the city that was built on the delightfully pungent Hatch green chili – found here in everything from salsas and soups to cocktails – can't live on chile verde alone.  Local chefs have developed a sweet tooth and the result is some of the country's most creative, culinary recipes for chocolate.  No tour of Santa Fe's chocolate trail would be complete without stops at these hotspots.
Chocolate Maven:  Though the restaurant is a Top 20 local favorite, the bread and butter of this famed establishment is its exquisite bakery.  As you would expect, they take chocolate very seriously, from their divine Belgian Chocolate Torte to 12 varieties of brownies including Chocolate Espresso Bean, Chocolate Chile Pinon and Double Dark Chocolate Chunk.  But the real must-have here is in a warm, frothy cup of Mayan Chile Hot Chocolate. Chosen by Food Network Star Giada di Laurentiis as her favorite local elixir, it's a deep, rich hot chocolate with an exciting twist: the added warmth of red chile from nearby Chimayo, New Mexico.  821 W. San Mateo Rd. www.ChocolateMaven.com
Kakawa Chocolate House:  In Santa Fe, however, just one type of hot chocolate isn't nearly enough.  Named after the word for cacao, Kakawa's passion is more than a dozen varieties of authentic, historic drinking chocolates including those from the Pre-Columbian Mesoamerican Mayan and Aztec traditions, and from 1600s Europe, Colonial America and Colonial Mexico spanning 1000 BC to the mid-1900s AD.  Owner Tony Bennett has made it his career to research everything chocolate, even traveling to South American harvesting locales to find his in-house blends of the highest quality, 80% dark chocolate -- ranging from 68% to 100% in purity -- from a variety of purveyors, including Valrhona, Cluizel and El Rey. House-made truffles, agave caramels, solid dark chocolates, alternative baked goods, and ice cream incorporate contemporary flavors such as pomegranate, chile, hibiscus flower and mescal. Kakawa also offers classic European-style truffles such as Rose Orange, Earl Grey, Espresso, and Macha.  1050 Paseo De Peralta. www.kakawachocolates.com/
Santa Fe School of Cooking:  Founded by cookbook author Susan Curtis, the School celebrates and shares the distinctive techniques and flavors of regional Santa Fe cuisine through foodie walking tours, cooking demonstrations and hands-on cooking classes, several of which include every chocoholic's favorite ingredient.  After mastering recipes for Mexican Chocolate Cake, savory chicken mole, and -- of course – Mexican hot chocolate, you'll want to pick up some culinary souvenirs for your home kitchen from the school's market. The school's own Pi?on Cocoa is velvety-sweet, and Ibarra Chocolate comes in tablet form, pressed with ground cacao bean and cinnamon.  Create your own blend by submerging a Molinillo -- an essential Mexican kitchen tool -- in a pot of steaming chocolate and cream, whirl the handle with enthusiasm, and froth up a traditional Mexican hot chocolate like a pro. 125 N. Guadalupe St. www.santafeschoolofcooking.com
Nicah Spa at the El Dorado Hotel:  When you just can't eat another bite, indulge in a non-caloric treat:  a Chocolate Molé Wrap & Massage ($180) in one of Nicah Spa's peaceful treatment rooms.  The spa's yummiest luxury treat begins with hot tea, fruit-infused water and chocolate trail mix in the relaxation lounge, followed by the 80-minute wrap and massage.  For a bonus treat, add on a 25-minute Chocolate Peppermint Sugar Scrub ($80), that that leaves you relaxed and smooth as a melted truffle.  Santa Fe has two world-class massage therapy institutes, which explains why the highly-trained staff here is at the zenith of their field. The escape continues with a complimentary visit to the rooftop pool, and inside the spa's turquoise-tiled steam room where the fog is so thick that no one will see if you're sporting extra pounds from your indulgent exploration of Santa Fe's chocolate trail.  309 West San Francisco Street. http://www.eldoradohotel.com/santa_fe_spa/
Courtesy Chocolate Maven
Chocolate Maven
Courtesy of Nidah Spa
Nidah Spa at the El Dorado Hotel
Courtesy of Kakawa
Kakawa Chocolate House
Courtesy of Kakawa
Kakawa Chocolate House
Courtesy of Kakawa
Kakawa Chocolate House