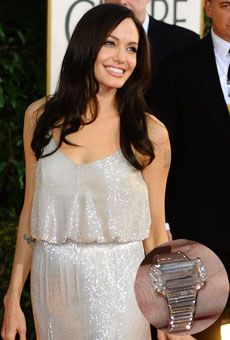 The year 2012 is definitely a good year for celebrity engagements as we have seen longtime Hollywood couples make things official and several A-list celebrities suddenly proposing to their partners. Because of this, there is definitely a lot of love and shining bling around Hollywood recently as celebrities proudly show of their gorgeous celebrity engagement rings.
The Massive Yellow Ring of Kelly Clarkson
Who would have missed Kelly Clarkson's massive yellow bling on her finger when she performed at VH1 Divas Concert in Los Angeles last December 16, 2012? That was the first time that she showed the world the unique yellow canary diamond ring that is surrounded by smaller sparklers co-designed by no other than her would-be husband, Brandon Blackstock. The famous Beverly Hills jeweler Johnathon Arndt made the design happen as he searched for the best canary yellow diamond for his favorite country singer.
Celebrity engagement rings have always been expensive with flawless clarity and massive sizes. But you have to love the uniqueness of Kelly Clarkson's engagement ring that is said to be valued at about half a million dollars. Kelly has always been fond of canary yellow diamonds and this one is a jaw-dropper radiant-cut, 6-carat canary diamond.
Gargantuan Diamond Engagement Ring of Brandy Norwood
We all know her from the famous song "The Boy is Mine" and being the Moesha star. An epic end to her 2012 should be in order as she recently got a gargantuan diamond engagement ring from music executive Ryan Press who helped designed what could be one of the biggest celebrity engagement rings of 2012.
The gargantuan diamond engagement ring is a circular-cut diamond ring that is rumored to cost about a million dollars. Just when people are saying that size is not everything when it comes to diamonds, it is simply hard not to stare at this bling.
Huge Diamond Engagement Ring of Jessica Biel
We were all taken aback by how lovely Jessica Biel and Justin Timberlake looked together and the undeniable happiness they share. They truly are a fun couple but who would have thought that they have plans of joining the group of best celebrity engagement rings.
Critics are saying that Justin Timberlake has truly matured over the years. He proved this when he himself chose the huge diamond engagement ring he gave to Jessica Biel. At first look, some thought it was customized as it looked vintage. Truth is it is a whopping 6-carat radiant-cut diamond engagement ring with scrolling rope style on the sides.
The Unusual Diamond Engagement Ring of Angelina Jolie
Angelina Jolie is definitely not your typical girl with usual tastes. As she had always managed to stand out in whatever clothes she wear or situation she is in, Brad Pitt definitely chose the perfect engagement ring for the mother of his children.
This is one of the most unique celebrity engagement rings we have seen. It has been custom designed by famous jeweler Robert Procop that boasts of an enormous center stone that is elongated tablet in shape and mounted on a galaxy of smaller stones. It is a diamond-covered art deco band that fits Angelina's hands and personality perfectly.