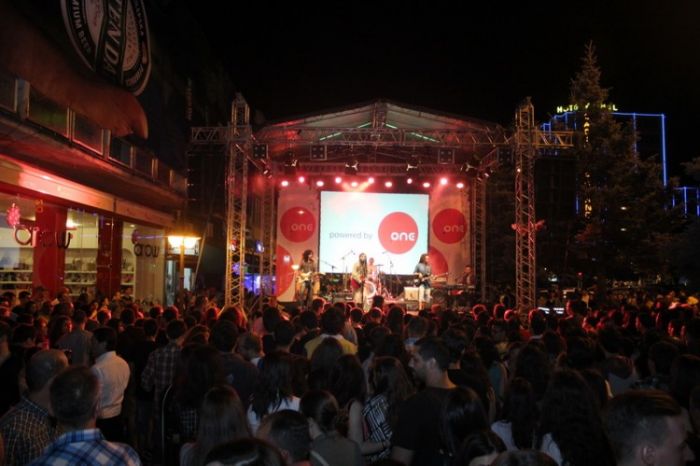 Press Youth Cultural Center
With performance of Belgrade's composition "Zemja gruva" in june in Bitola was held International Youth Art Festival "Bitola Open City 2014" in organization of the Youth Cultural Centre in Bitola. During the festival from 25 to 28 June in several locations in the city were provided concerts of groups from home and abroad, open street parties, exhibitions, performances, and great traditional music happening, this time with a spectacular performance of "Zemja gruva" from Serbia. This Balkan rock attraction host a big outdoor party on the Main Street Sirok sokak in Bitola. As a warm-up to the great music event Serbian ska reggae-jazz-punk band "ZAA" from Tetovo and reggae band "Konkering Lyon" were performing too.
The basic idea of the festival is to gather young artists from Macedonia, the Balkans and all over Europe to present their artistic potentials and skills. The concept of "Bitola Open City" project is to open the city to the world, to different art forms, and to the variety of intercultural cooperation. In this way, Bitola can become a place where young people meet, make new friendships, network and be ambassadors of good will. The Festival aims to provide a venue for young and emerging artists to showcase their work, tapping into a new audience outside the confines of institutionalized cultural outlets.
Press Youth Cultural Center
International Youth Art Festival 'Bitola Open City 2014'
Press Youth Cultural Center
International Youth Art Festival 'Bitola Open City 2014'
Press Youth Cultural Center
International Youth Art Festival 'Bitola Open City 2014'
Press Youth Cultural Center
International Youth Art Festival 'Bitola Open City 2014'
Press Youth Cultural Center
International Youth Art Festival 'Bitola Open City 2014'
Press Youth Cultural Center
International Youth Art Festival 'Bitola Open City 2014'
Press Youth Cultural Center
International Youth Art Festival 'Bitola Open City 2014'