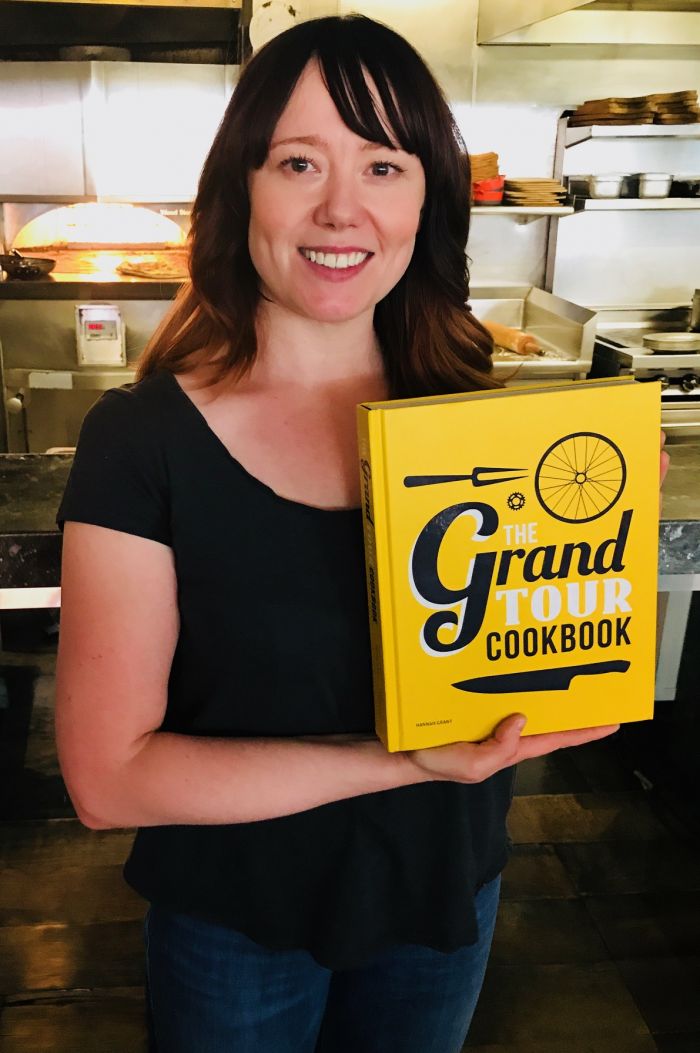 Photo Credit: Jill Weinlein
Recently I had the opportunity to interview world class chef Hannah Grant about her new The Grand Tour Cookbook. Grant was hired in 2010 to keep the top cyclists in the world fueled for their international race. It was a success and created a lot of attention. The following year, she cooked on a truck equipped with a state-of-the-art professional kitchen following the cyclists on their tour. This experience inspired her to compile more than 340 pages of healthy "high octane" recipes that she made to meet the dietary needs of professional athletes.
During the Tour de France, one of the world's most physically demanding sporting events, Grant and her culinary team moved daily with the racers, starting in Dusseldorf, Germany and ending in Paris, France for the famous ride through city streets to the finish line at the Champs-Élysées. Here's what we learned from chef Hannah Grant:
JustLuxe: What do cyclists like to eat?
Hannah Grant: Athletes eat three times what a normal man would consume daily. When I first started preparing meals for them, their favorite foods were pasta, ketchup, Cocoa Puffs cereal and chicken. I was appalled, because they should be eating a much healthier and balanced diet to achieve their peak performance. When I introduced vegetables, fruit and brown rice into their diet, it became a major revolution and challenge. I told the riders that food fuels the body, so your performance will be enhanced when you fill your body with the proper fuel to achieve your optimal energy yield.
JL: When did they become receptive to a new dietary change?
HG: It took some time for them to go from old school eating to a new high-performance biking diet. Some were struggling with allergies and some had an extra few pounds before I joined the team. Since they burn 4,000 to 6,000 calories a day, many believed they could eat anything they wanted. I had to teach them that their extreme physical activity doesn't run well on refined products—white sugar, white pasta, etc. It needs anti-inflammatory foods, Omega-3 fatty acids and anti-allergy foods to give cells extra protection. One of the first to feel a difference was Danish cyclist Michael Morkov. He told me after eating my meals, he could feel his body working better. He became my ambassador, when I took him off wheat, and his body fat went down. That's when others noticed and were willing to give it a try.
JL: What was a typical breakfast, lunch and dinner for the cyclists?
HG: We had 9 riders that were different in age. Our youngest was 20 years old and oldest was 38 years old. I made every one of the cyclists meals from scratch using local organic ingredients. I helped fuel their bodies with food that looked as good as it tasted. Breakfast was one of the biggest meals with a variety of fruit, nut porridge and omelets. I made protein shakes and soups for the riders to easily eat for lunch while on their bicycle. I also made them race snacks and handed out feed bags. It contained three to four small sandwiches made with gluten-free breads. Bananas are the perfect snack. I also put in a few homemade energy bars and gels. Dinner had two healthy starches (sweet potatoes, yams and butternut squash) two proteins, two vegetables. Many of the recipes are in my 21 Day Cycle in the cookbook.
JL: How old were you when you decided you wanted to be a chef?
HG: I wanted to go to culinary school at 14. I dropped out of school and worked for a bit, yet I needed more discipline, so I joined the Danish Royal Navy when I was 19. After training, while I was on a ship, I met a crew member Karl who graduated from chef school. That's what I wanted to do. If I wasn't sleeping, I hung out in the galley and cooked with Karl. After my time in the Navy, I enrolled in Culinary School in Copenhagen. The Navy taught me discipline—"Yes Chef" while working in kitchens. The male dominated world in the Navy, is similar to the male dominated world in a kitchen and cycling.
JL: How long did it take you to compile and write this cookbook?
HG: Six months. I was the food stylist and took all of the photos inside the book consisting of 21 evening meals with three to five recipes. Most of the recipes accommodate a dairy or gluten-free diet to appeal to those with food allergies.
JL: I understand that the wife of an Amazon producer learned about you and told her husband your story about cooking for the Tour de France. She told him it would make a great series.
HG: Yes, The series offers a behind-the scenes peek into sports, travel and food during one of the largest annual sporting events on the planet. Not only will you watch the race, but also the athletes and their support team. It's about the incredible cyclists competing in the 104th Tour de France, with a focus on the dishes and snacks we made to keep them pedaling for the 23-day endurance race, covering 21 stages and 2,200 miles.
The Grand Tour Cookbook is published in English, German, French, Czech and Danish.