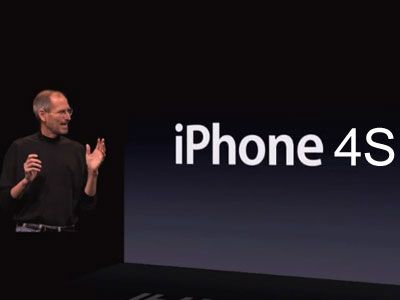 Steve Jobs, the visionary co-founder of the tech giant Apple, succumbed to cancer Passed away Wednesday, It's unfortunate and quite sad as many said, He was the founder of Apple, Inc.
The splash page of Apple's website currently features a black and white portrait of Jobs that, when clicked, reroutes the visitor to a page that reads, "Apple has lost a visionary and creative genius, and the world has lost an amazing human being. Those of us who have been fortunate enough to know and work with Steve have lost a dear friend and an inspiring mentor. Steve leaves behind a company that only he could have built, and his spirit will forever be the foundation of Apple."
His passing occurred just one day after the company unveiled a new iPhone to the public. Not, to the disappointment of many, the long awaited iPhone 5 but instead an interim model known as the iPhone 4S. Apple's new CEO Tim Cook, the man who stepped in to replace Jobs in August, launched the iPhone 4S.
Although physically identical to its predecessor the iPhone 4, the outward appearance of the iPhone 4S is deceptive because it is, in fact, superior to the iPhone 4 in the most important areas – memory capacity, speed, battery life and camera quality to name but a few.
It features a dual-core A5 processor that, among other things, increases its download speed to 14.4Mbps - almost twice as fast as the 7.2Mbps of the iPhone 4. The camera has been significantly upgraded to an 8-megapixel sensor and is said to produce 30% sharper pictures. The iPhone 4S is equipped with unique technology that enables it to shift a radio signal between two antennas to send and receive, a feature that was designed specifically to enhance the phone's reception. Also new to the latest generation of iPhone is Siri, an easy to use natural voice recognition program that can function essentially as a digital assistant to the user. All of this will be powered by the strongest battery iPhone has yet seen, providing 8 hours of air time, 6 hours of web surfing and 9 hours of WiFi before needing to be plugged in. A charged battery will allow users to watch 10 hours' worth of movies and listen to 40 hours' worth of music before running out of juice.
Now with Sprint on board, the iPhone is compatible with more wireless providers than ever. AT&T and Verizon Wireless also support the iPhone, giving consumers a variety of carrier options. By the end of the year, it will be available on more than 100 carriers.
The iPhone is responsible for more than 40% of Apple's overall annual revenue. Despite the fact that Apple shares plummeted upon their announcement of the iPhone 4S, experts and analysts anticipate that sales of the new device will be strong. They point out that despite the incremental upgrade of the iPhone 3G to the 3GS, record numbers of consumers opted to make the purchase as opposed to holding out for the 4. Sales of the iPhone 4S should be similar and maintain the iPhone's status as the world's highest-selling smartphone.
"The iPhone 4S maybe isn't the most compelling upgrade," said analyst Michael Holt, according to the economictimes. "But people on the 3GS and other phones, those people are ready to upgrade. It will sell well."
One Ticonderoga analyst, Brian White, referred to the initial disgruntled reaction from consumers regarding the iPhone 4S "a knee-jerk reaction," reported the economictimes.com. He forecasts that Apple will sell some 27 million iPhones during the October-December quarter.
What is likely to boost inspire people to upgrade to the iPhone 4S is that fact that many existing iPhone customers could qualify for a discounted upgrade as an incentive for them to renew their contract with their current wireless carrier.
"50 million to 70 million people will be coming off contract in the next year," said Peter Misek, a Jefferies & Co analyst, according to the economictimes.com. He also claimed to have received a call from someone who wanted to get an iPhone 4S specifically to commemorate Steve Jobs.
Other analysts predict that the death of Jobs coinciding with the launch of the iPhone 4S will have a positive effect on sales.
"Store traffic will increase and there's going to be some sentiment-related purchases," said Bill Choi, a Janney Montgomery Scott analyst, to economictimes.com.
Bill Kreher of Edward Jones, thinks that Jobs' place in pop culture will definitely create a boost in sales.

"But over the long run the products will stand on their merit," he said, according to the economictimes.com.
By the fourth quarter, overall sales of all the iPhone models should reach 28 million. More than 10 million of that can be expected to be attributed to the new iPhone 4s, predicts co-founder of independent research firm ABR Investment Strategy Brad Gastwirth, reports the economictimes.com. Data reveals that in the April-June quarter, Apple sold more than 20 million of the iPhone 4.

Across the globe, Apple is liable to ship 83.6 million iPhone units in 2011, an amount that can be expected to rise to 112.5 in 2012 and 169.0 million in the year 2012, according to studies conducted by IHS iSuppli Design and reported by economictimes.com.

The iPhone 4S will be on store shelves beginning October 14 in select countries of which Japan and the United States are included. Consumers eager to get their hands on one can apply for a credit card now and be approved in plenty of time to be able to charge their iPhone 4S when it becomes available at their nearest Apple store. Those looking to pre-order the product can do so online via Apple's website or carrier websites – AT&T, Verizon or Sprint.
Stock levels of the iPhone 4S seem to be holding strong in the United States so far, but that is not the case internationally. In Canada, Australia, Germany, France and the United Kingdom, those pre-ordering an iPhone 4S are being given estimated shipping times between one and two weeks.
How the iPhone 4S compares to previous iPhone launches will be determined as soon an pre-order volume numbers are analyzed.