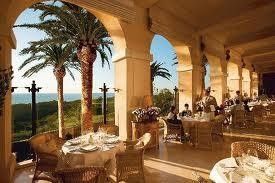 tripadvisor.com
For all you Italian food lovers who expect nothing but the best in italian cuisine, then this restaurant must be put at the top of your list. It has been said that Andrea located in The Resort at Pelican Hill, is simply "unpresedented" when it comes to creating a culinary experience that you will truly savor. The menu is based on the true italian flavors of Northern Italy and has been acclaimed to be "perfecto"!
The service is impeccable and the views are breathtaking ocean views. Their attention to details are very impressive making sure that your dining experience was more than you expected. The staff is very friendly and courteous. The pastas are all made in a temperature controlled environment making sure that they serve only the freshest and best possible.
The menu is quite extensive offering a very large variety of appetizers, salads, soups, main courses, pizzas, and more. Your servers are more than happy to walk you thru the menu and explain all the items if you are not familiar with them. There is a beautiful terrace located just outside of the dining room for those who would like to embrace that "ocean air" feeling.
You might also be interested in:
Luxury Hotels in Orange County: Oceanfront Style
tripadvisor.in
caththomascooks.com