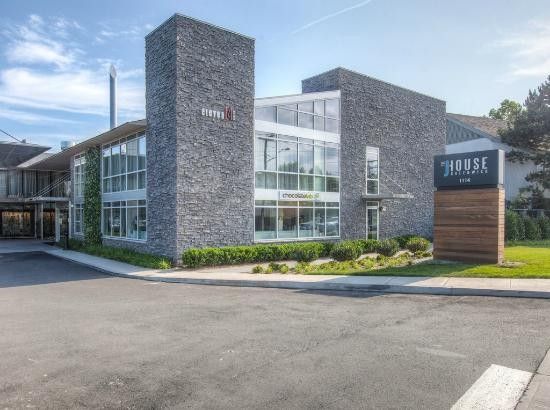 JHouse Greenwich
Once a humble Howard Johnson's overlooking I-95, JHouse is now Greenwich Connecticut's newest hotel and live music hotspot. Resulting from extreme adaptive reuse, the property's exterior footprint is the only discernible clue revealing its HoJo origins. The rest is a tricked out ultramodern architectural gem. A grand glassed entrance with a valet at the ready leads into a bright reception area. At first it feels as though you're entering a museum and in some ways it is once you look up at the installation on a giant projection screen showing people perpetually crawling up the wall. Further exploration along the walls reveals a strong presence of contemporary prints featuring Star Wars inspired characters. You'll soon discover that this small lobby, as in many other great hotels, effectively ties in multiple spheres of activity. Here's what ultimately defines the JHouse experience:
Nightlife
Upon walking past the reception desk out of the lobby into more subdued lighting with sensuous furnishings, I can certainly see why JHouse is often described as "Greenwich's living room". There's no denying that live music and convivial partying abounds most evenings with plenty of sofa space overlooking a massive glassed-in gas fireplace. Their current nightly entertainment lineup kicks off on Wednesdays with A Jazz Duo featuring vocals by Kelly Mittleman. The Maria Meadows Band takes the stage on Thursday nights with DJ and Dancing on Fridays with James Daniel Entertainment whose DJs have a unique talent for reading the crowd and matching its vibes to the music. DJ Baby Manny wraps it up on Saturdays with his carefully selected and eclectic sounds inspired by industrial-electronic-new wave scenes.
eleven 14 Kitchen
Ensconced in the far corner of JHouse, Seasonal American cuisine using the freshest available local ingredients is what you get from Executive Chef François Kwaku-Dongo's kitchen. Growing up on his grandmother's cocoa farm in West Africa's Côte d'Ivoire, Francois was exposed at an early age to living off the land. Those early sensibilities and culinary prowess carried him all the way to Wolfgang Puck's Spago in West Hollywood and Chicago along with being featured in Forbes Magazine as one of ten up-and-coming celebrity chefs before taking the helm at JHouse's eleven 14 Kitchen. Comforting dishes I enjoyed during my visit included a hearty chestnut soup and crisp Long Island roast duck along with a dessert of their house made espresso gelato. Seasonal outdoor dining is available with seating areas and bar protected from the elements by a unique system of trellises and heating units. The backdrop is adorned with lush gardens, outdoor fireplace and a cascading water fall. Inside along one corridor leading to the bar and indoor dining room, a display case filled with pickled vegetables and balsamics lines the wall along with glassed-in views of the pastry kitchen where you can witness the latest batch of breads and desserts being made from scratch.
Chocolate Lab Featuring Omanhene Chocolate
If I had to pick one onsite retail outlet that needs to be in a hotel, it would of course be a top-notch chocolatier. And that's where JHouse shot the moon with chocolate direct from Ghana. Omanhene Cocoa Bean founder Steven Wallace puts it this way, "Ask most people where fine chocolate is made and you'll likely get a list including Switzerland, Belgium, and France. Fine chocolates to be sure, but how many cocoa trees actually grow in Zurich, Brussels or Paris?" Wallace's interest in West Africa's Ghana began in 1978 began as a foreign exchange student. He lived with a large, traditional family in the town of Sunyani in Ghana's fertile Brong-Ahafo region. Wallace was convinced that if Ghana grows the finest cocoa in the world, it could certainly produce the world's finest chocolate. Founded in 1991, Omanhene is often credited with being the first single-bean origin chocolate produced along with the first to offer a Dark Milk Chocolate category. It just so happens that Chef Francois Kwaku-Dongo is on their management team ensuring this hand picked shade-grown gourmet chocolate continues to represent true Ghanan chocolatiers.
The Rooms
The halls are narrow, quiet, softly lit, with each room number backlit. I detected a light yet unmistakably incense infusing the air. Technophobes beware, your room is not a place to retreat from society's latest gotta-have gizmos. JHouse embraces and for the most part succeeds in harnessing the power of your very own in-room iPad with free WiFi allowing you to control everything from temperature, ordering room service, to dimming the lights and closing the shades. No more wrinkled hotel guides or out-of-date binders. But sometimes, it's just easier to push a button on the bedside control-panel to accomplish many of the same tasks.
Wait, there's more…like the 55-inch Samsung LED Mirror TV in front of your bed along with a smaller one in the all-glass paneled bathroom. Unfortunately, the screen isn't placed in front of the Toto Neorest R 550 Dual Flush 1.6 GPF toilet with a lid that automatically opens when approaching and once astride heats up for additional comfort. But at least you can shave and brush your teeth while catching up on the game.
Coverage resulting from a sponsored visit.
JHouse Greenwich
Bedside at JHouse Greenwich
Steve Mirsky
Crisp Long Island Roast Duck
Steve Mirsky
Balsamics & Pickled Garnishes on Display at JHouse Greenwich
Steve Mirsky
House Made Espresso Gelato at JHouse Greenwich
Steve Mirsky
Open Pastry Kitchen