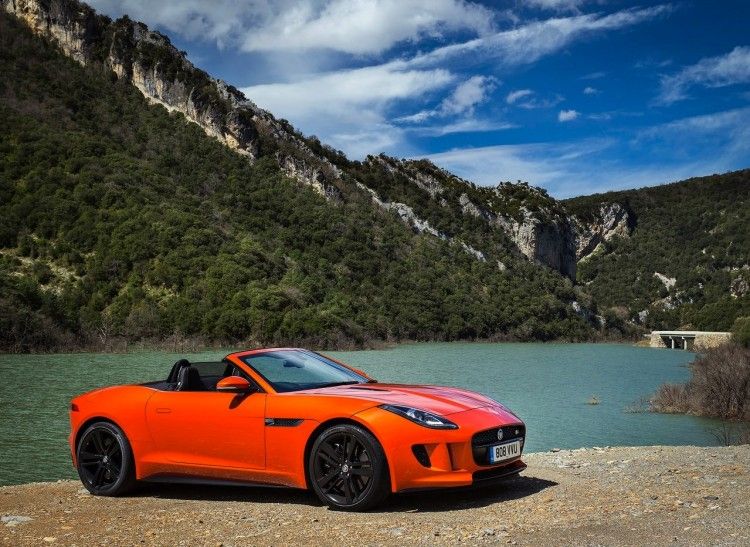 Newspress
It's 30 degrees and I'm standing on the banking of the world's first purpose-built motor racing circuit. Constructed in 1907, Brooklands is the birthplace of British Motorsport and if that's not cool enough I am accompanied by the seductive Jaguar F-Type and ready to live it up for a few days. As car reviews go they don't get a whole lot better to be honest. I am here for the priceless car parade that will see some of the finest automotive art roll from Brooklands to Syon Park for the uber chic Salon Privé Concours d'Elégance. It's an event I have wanted to attend for years and made even more special this year by my Jaguar test car. After collecting the F-Type in Birmingham I had a nice 200km route incorporating B roads, mountain climbs and an hour on the M1 thanks to some creative Google map planning. The new F-Type comes in three variants, the V6, V6 S and the all singing V8 S that I have on test. As an XF owner I was lucky enough to get invited to the Irish launch of the V6 S but sadly it was an unveil more-so than a test drive. It looked stunning and I couldn't wait to get a drive and thankfully it has lived up to my expectations.
Whilst the V6 has 340hp, the V6 S has 380hp and the monster V8 S pushes out 495hp at 6500rpm. When I fired the Jag for the first time it sounded nothing short of superb with the optional exhaust baffles open. The V8 S in many ways is the grand tourer of the range aimed at those who might be considering an Aston Martin Vantage Roadster. On the other hand the V6 particularly the S model is aimed directly at 911 purchasers. This car has been set up totally different with a track-orientated feel delivering a somewhat frisky driving experience. On the other hand the lazy V8 S is all point and squirt letting the 625 Nm of torque pull you down the road through the seamless 8-speed automatic. The only way to describe the surge of power is, addictive! 100km/h comes up in just 4.3 seconds and should circumstances allow, it will nudge 300km/h, which really is supercar territory.
Aesthetically the Jaguar F-Type doesn't disappoint either. With the elegant E-Type used a source of inspiration the modern lines of the F-Type are sublime. They seem to have got the aggressive front end to somehow work with that elegant rear. My test car had its all aluminium body flanked in a beautiful Firesand colour with a black hood. The black hood goes perfectly with the carbon 20-inch turbine alloy wheels, which are practically filled with 380mm of performance braking disc. Another nice touch is the flush door handles that only protrude when stationary or unlocked. Inside the luxury continues with sports leather seats and facings. The air vents are hidden until needed where they will rise from the top of the centre console. The acoustics are top class also with a full Meridian surround sound system. Even with the roof down, ample bass messages your back whilst subtle tones are brought to life with delicate tweeters leaving you in no doubt you are surrounded by quality. Leaving Brooklands I was in good company with a Ferrari 250 GTO in my rear view mirror and a Pagani Huayra in front. The ironic thing is I didn't feel at all out of place and cruising into London the F-Type commanded as much camera action as any. I spent three days with the exquisite F-Type and for many that attended Salon Privé it was their first opportunity to get up close to Jaguars new flagship. The feedback was phenomenal and I have no doubt it will be an iconic car of the future. My return trip to Birmingham was one of sorrow knowing I had the hand the keys back. Who knows, with the F-Type Coupe just released I could be back next year with a hard top!
About Salon Privé
Salon Privé is now justifiably regarded as the UK's leading automotive event for premium brands. No more so was this demonstrated than with the sensational models receiving their Global and European debuts on the lawns of Syon. The Chubb Insurance Concours d'Elégance is not only the UK's best and most exciting Concours, but it is now a world-class event with international recognition and a well-earned place alongside events such as Pebble Beach and Villa d'este. Attracting entries from around the world, it is now a firmly established occasion for connoisseurs, collectors, enthusiasts and people who simply appreciate the opportunity to get up close to such stunning, rare machinery. With the additional new features such as the Hyper Car Collection, Concepts & Prototypes Display and Royal College of Art 'Concours of the Future' Exhibition, guests to last year's event were treated to a spectacular event and with Lobster for luncheon and Pommery Champagne on ice, it was the perfect way to see out the summer. To see the highlights of last years event please click the link.
http://www.youtube.com/watch?v=QWELu9BXmqw
Specification (Irish - UK)
Engine Size -V8 5000cc
Fuel Type - Petrol
Power - 495hp
Torque-625Nm
Acceleration (0-100km/h)-4.3 seconds
Top Speed-300 km/h
Consumption (Combined)-15.9L/100km
CO2 Emissions - 259 g/km
Road Tax -€2350 G
Base Price - €108,250 (V6)
Price as Tested-€151,750 (V8S)
Newspress
Newspress
Newspress
Newspress
Newspress
Justin Delaney
Justin Delaney & Ronald Browne on the world famous Brooklands Banks.