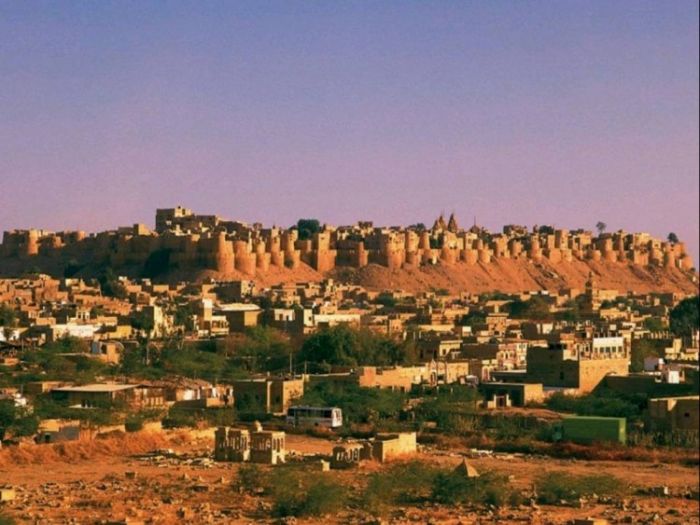 Jaisalmer- the Golden City evokes a sense of delight and utter charm when we think of it. Marking a significant place in the heart of millions of people, the city pursue a royal liveliness and abandoned with a rich cultural history of our Incredible India. The colors and joy of life here will simply lure your senses. This sand city beautifully nestled amidst the Thar Desert and was named after one of the royal Bhati Rajput Ruler, Rawal Jaisal. This alluring city is like a treasure trove for ample of travelers who want to explore its majestic charm. Presenting a beautiful blend of cultural heritage, royal beauty and grander, the city makes the patrons experience its rustic life.
The prime attraction of this desert town is the magnificent Jaisalmer Fort that have been carved out of yellow sandstone. The fort is not just a major sightseeing beauty, but a living legend of several histories, dwelling within it. The uncommon feature, enriching the culture of the region is its rich Jain heritage. There are many temples that adorn the magnificence of the rich craftsmanship and architectural grace of the city. Some of the oldest libraries are also situated here, showcasing the most exceptional manuscripts and artifacets, to know more about the Jain religion.
Besides the Jaisalmer fort, there are also some other enchanting forts and palaces that truly honors the city. Visit the Folklore Museum, Bada Bagh, Gadsisar Lake, Jain Temple, Kailana Lake, Government Museum, Patwon ki Haveli, Sam sand dune, Khuri, Wood Fossil Park, Manak Chowk, and Lodurva.
Jaisalmer also stands proud with some splendid havelis that once served as royal residences of many powerful kings and rulers. The buildings that stand high, displays the genuine Rajasthani architecture and splendor of the ancient days. They invoke a special interest in the travelers who want to mingle in the liveliness of the olden days. Along with the major sightseeing, the visitors can also get along, enjoying the camel safaris, camping and dining the sumptuous delicacies of the places that truly adorns and allures the tourists from every part of the globe.
The accommodation facilities in jaisalmer has improved in leaps and bounds as the region witnesses a huge tourist influx. Catering to the business and leisure travelers, there are many luxury resorts, featuring top class services and top notch facilities that pamper the patrons more like a king or a queen. The chic interiors, elegant décor, warm hospitality and impeccable beauty offers intriguing experience ever since.
The art and architecture of Jaisalmer truly adorns and bestows the discrete travelers to enjoy a splendid vacation.
Jaisalmer Golden City, Jaisalmer Rajasthan, Jaisalmer Golden Glory of Rajasthan, Accommodation Facilities in Jaisalmer, Jaisalmer Fort,