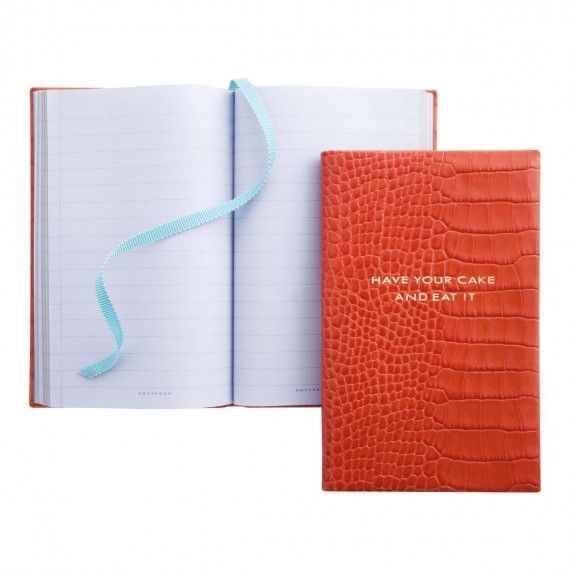 Smythson
Have Your Cake And Eat It: LuxeGuru (stationery addict since the age of six) braves the sales at Smythson of Bond Street, Bicester Village
In the spirit of the January sales, I headed over to Bicester Village in the hope of bagging an Anya Hindmarch accessory ~ ideally a decadent metallic gold soft leather loose pocket from her Core Collection to hold foreign notes, or cab fares, and avert the usual scrummage among mixed denominations at the bottom of my handbag. Or else a companion to the hardwearing hot pink makeup bag and camera case I found online the year before.
It was bad timing on my part, at least as far as the pockets were concerned ~ if not wishful thinking these particular pieces would ever make it to the sales. As for the 2009 hot pink collection, sadly the pieces had seen one sale too many. Not even a 30-40% reduction and additional 10% off with a Bicester Village VIP card could win out over my OCD in the face of nail marks and wear to the once shiny patent leather.
With no other mission for the day, and not in the mood for the inevitable Ugg, Mulberry and Ralph Lauren queues, I sought solace a few doors down at Smythson, a tiny outpost of the British luxury leather and stationery company which celebrates its 125th anniversary this year.
Revered for its unfailing attention to detail and quality craftsmanship, Smythson is a sweet shop for stationery addicts. For some people, it's the only place to buy their diary. The signature pale blue 'Featherweight' paper was copyrighted in 1916 by Frank Smythson whose aim was to create the first practical, lightweight and portable diary, the paper being half the thickness and weight of normal paper yet still able to hold ink. Made in a specialist mill that also produces banknote paper, it comes watermarked with a distinctive globe and feather design.
While I love technology and spend untold hours attached to all things Apple, there is nothing more satisfying than taking pen to paper in a jewel-like notebook. My pink lizard Panama diary is among my most favourite possessions, still going strong after five years thanks to Smythson's rebinding service (£60, available for lizard Panama diaries and notebooks only). For me, the quality and craftmanship justifies the price. I'd rather save for one special piece to cherish for life than compromise with an item I know I'll end up discarding.
If you're looking for the current season's colours, the mailorder sale usually offers the widest selection (select items are also available on Net-a-Porter), but for older ranges (usually two or three seasons) the Bicester Village discounts can't be beaten. There was a good selection from the 2009 Damson Collection, a variety of mock croc iPad 1 cases and sleeves, a gorgeous hot pink computer bag come briefcase, photo albums that would make perfect presents, classic black accessories for men, lizard Panama notebooks available in both pencil and tuck, and slide closures (reduced to £128.70 on display at the till) ~ all significantly reduced. There were some exquisite (though not quite reduced enough) Christmas cards too, if you can overlook the ghost of Christmas past, and a very dainty New Year design featuring a single snowdrop (£15 for a box of 10). New Year cards are always a wise purchase for me, as I tend to be more organised then than at Christmas. I also fell in love in with a box of cupcake notelets that would make perfect presents for my cake-making friends, if ever they made it that far.
But among the selection of diaries, address books, manuscript books and floppy notebooks, it was this Have Your Cake And Eat It with its sage green silk lining that called to me. First, because of the utterly divine colour ~ the 'Hibiscus' burnt orange reminds me of Hermès. And secondly, because of the gold-embossed motto ~ apt for me, given my job. Though destined for the same purpose, a simple ruled notebook is also less prescriptive than 'Restaurant Notes', though I'll probably be back for that as well.
Not exactly a planned purchase, but at half price (£32.50) it's worth every penny for the smile it will put on my face each and every day of the year.
www.bicestervillage.com, www.smythson.com
Follow LuxeGuru on Twitter: @LuxeGuru