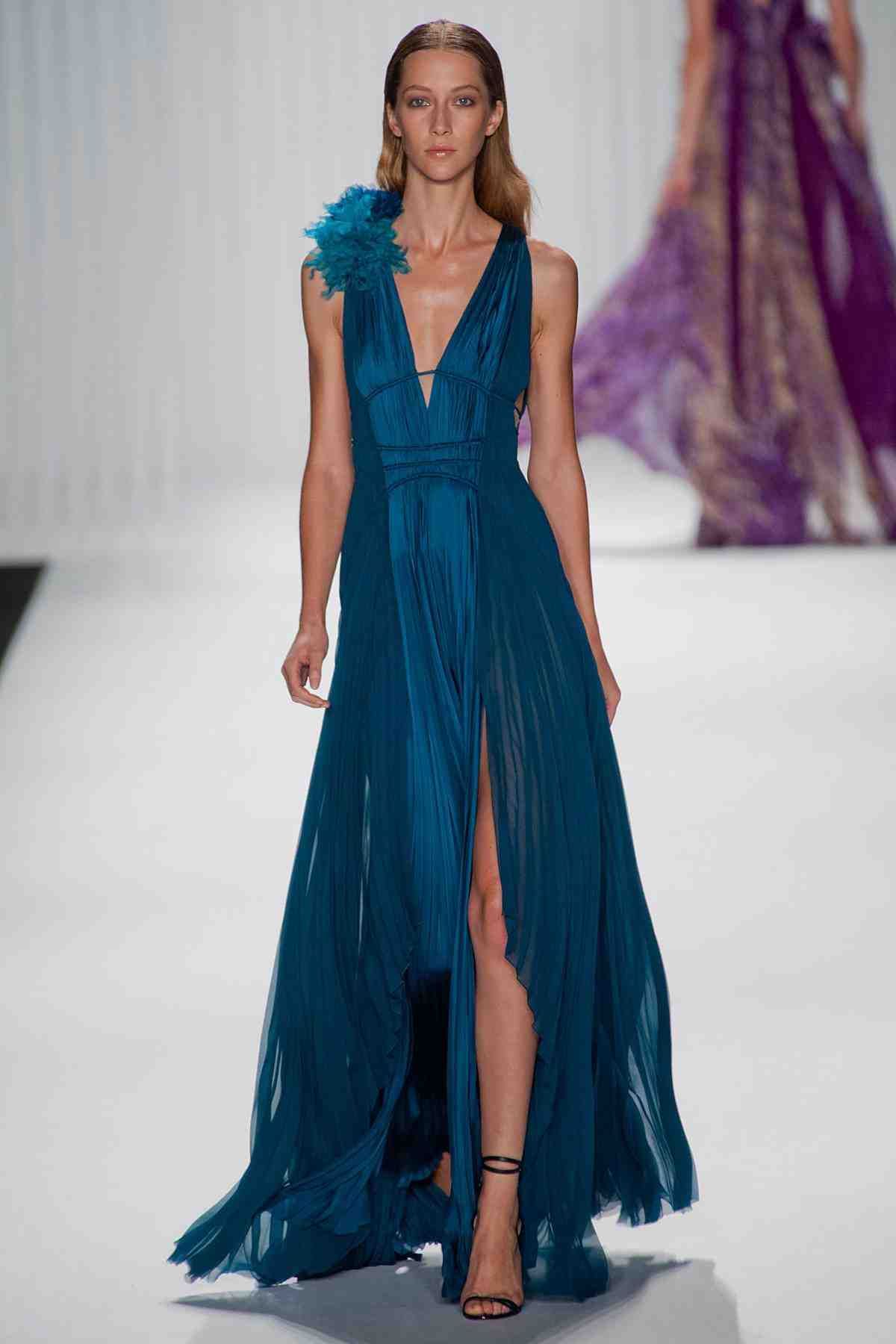 The Fur House, Jay Mendel, now with 10 years as a Red Carpet Favorite, showed his Spring 2013 Collections with no apologies for luxury and romance. With a mood of both florals, created with an inspiration from the Wisteria blossom, the collection was a complete wardrobe of Casual Cocktails, Evening wear and Luncheon or shopping. The formal structures of many of Jay Mendels clothes reference his deep knowledge of couture with his construction of the perfect bodice, skirt and top. His artless construction, doesn't really show the complexity of these pieces each with uniquely structured foundations all created with ease and lightness. For those ladies who think that florals are required, Monsieur Mendel sprinkled these looks with his inspiration print, "Wisteris" in shades of purple and lavendar in a variety of looks for everyone's taste from sporty to romantic.
His solids like coral, black, chocolate, yellow, pale green and creme were beautifully accented with details like chiffon skirts, leather accents, little shorts, or structured skirts and tops. Special mention of course to the furs and other "tres mignon" pieces that were sprinkled throughout. The little mink hot pants, a "Cheeky" runway hit, nevermind who can wear them, they were adorable.
The Red carpet girls will be all aglow and the front row was abuzz, i can tell you. I hope to see some of these on the upcoming Awards circuit. The dreamy pinks, pale chiffons and exquisite full length gowns ranged from gorgeous strapless, to the afore mentioned Goddess gowns, that were constructed out of air with beautiful silks, chiffons and simply said there will be awards given out in one of these gowns, I predict..."the Academy Awards goes to..."
Backstage after the show...with up close looks at fabric and some of the models, see my blog at: www.artofstyle-magazine.com
For more information and a full video of the collection please see New York Magazine, "The CUT" where all the fashion coverage is in complete form. http://nymag.com/thecut/runway/