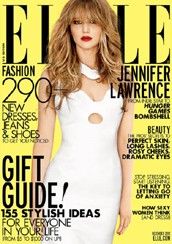 Carter Smith/Elle
Look at Jennifer Lawrence on the cover of Elle magazine, being all smug in that skin-tight white dress and obvious overeating issues. She should immediately be put on a diet and hire a nutritionist because, clearly, she just doesn't have the willpower to control herself when around tasty cakes or pasta. She disgusts me. And by "she," I mean "People who think Jennifer Lawrence is fat."
Jennifer Lawrence gets personal about body image in the December issue of Elle magazine.
She talked about her weight and the pressures of staying thin in the entertainment business.
"In Hollywood, I'm obese," Lawrence said. "I'm considered a fat actress. I'm Val Kilmer in that one picture on the beach."
The 22-year-old actress, who portrayed Katniss Everdeen in "The Hunger Games," also said she's not going to starve herself for any film role.
"I don't want little girls to be like, 'Oh, I want to look like Katniss, so I'm going to skip dinner. Read More