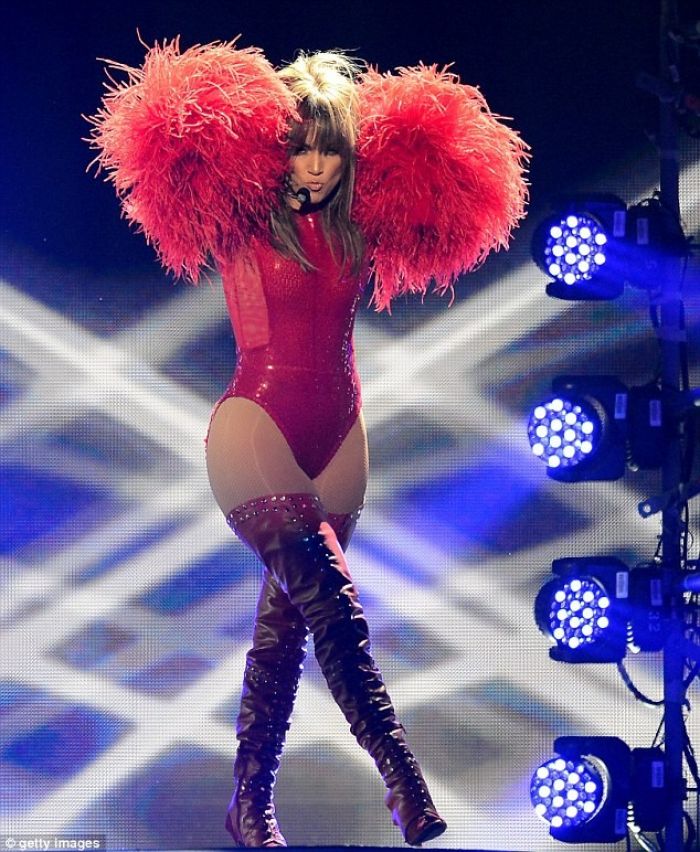 Image via Getty Images
So how do you pull off red, wooly wendigo arms and leather thigh-high boots? Why, you cast aside all traditional fashion tips and make the stage yours like Jennifer Lopez at the Billboard Music Awards. Looking sexy in an all red leotard, and that despite the pom-pom like coverings she chose for her arms, J-Lo put on a show to remember.
She debuted the music video for her new song Live It Up on Friday.
And when Jennifer Lopez stormed the 2013 Billboard Music Awards stage to perform the song on Sunday night, she took a cue from her own lyrics and did just that.
Wearing billowing red feather sleeves and a high cut red bodysuit that put her famous figure on show the 43-year-old put on a very sexy performance.
One lucky back-up dancer was assigned the very important responsibility of placing a hand on each side of the pop diva's derriere to help support her most famous asset. (Read More)