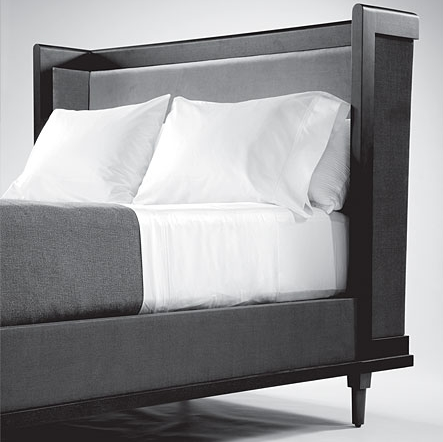 Jiun Ho
Jiun Ho is an interionally renowned furniture and interior designer. His style is classic, laced with chic, simple elegance. Jiun's inspirations are drawn from his extensive global travels, and every collection is a reflection of his inherit understanding of how great design can transcend styles and generations - creating pieces that will be a timeless addition to any interior.
His newest designs are seamless additions to his already extensive Jiun Ho Collection. Designed with delicately tapered legs, intricate attention to organic lines and an overall aesthetic that soothes the senses, his French Collection leaves a lot to be desired.
Most notable of the new collection is the Antigny Bed. Bold architectural lines on the headboard are softened with inset upholstery, on a clean upholstered frame with tapered post legs. Other notables: the Montresor Desk and Chambord Sectional Sofa.
Jiun Ho's collection is available in showrooms throughout North America, and select International locations.
Jiun Ho
Montresor Desk
Jiun Ho
A Jiun Ho Interior
Jiun Ho
A Jiun Ho Interior
Jiun Ho
Montresor Console
Jiun Ho
Chambord Sectional Sofa
Jiun Ho
Ulu Table
Jiun Ho
St. Cere Chair