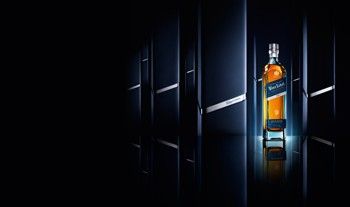 Diageo
Exclusive range features bespoke and personalised Private Bar and covetable items
JOHNNIE WALKER BLUE LABEL and Porsche Design Studio, two of the world's most iconic aspirational brands, unveiled the JOHNNIE WALKER BLUE LABEL Limited Edition Collection design by Porsche Design Studio late last year.
Into its second year, the Collection features a series of covetable items engineered for the shared enjoyment of JOHNNIE WALKER BLUE LABEL, a medley of bold layers of flavour drawn fromthe largest reserves of whisky in the world – hand-selected, rare casks from across the distilling regions of Scotland, influenced both by the smoke of the west and the rich, sweet whiskies of the east.
At the centre of the Collection is the new limited edition JOHNNIE WALKER BLUE LABEL Bottle, featuring bespoke labelling designed by Porsche Design Studio, and available with a series of one-off pieces including the Carton, the Chiller, the Mini Cube and the Private Bar.  Sporting a hybrid of modern design cues that reflect the combined heritage of JOHNNIE WALKER BLUE LABEL and Porsche Design Studio, the Collection creates a true design fusion representing the iconicism of both brands. Hand-selected soft touch modern materials, brushed titanium and high-quality matte silver screen print – hallmarks of Porsche Design – are combined across the Collection with the distinctive blue and iconic square-shaped bottle of JOHNNIE WALKER and signature slanted label.
Rudy Paoli, MD Global Luxury Diageo said: "We are extremely excited to be redefining a bold whisky experience through this collaboration with Porsche Design Studio, offering bespoke personalisation opportunities that provide a new level of whisky couture to Game Changers all over the world."