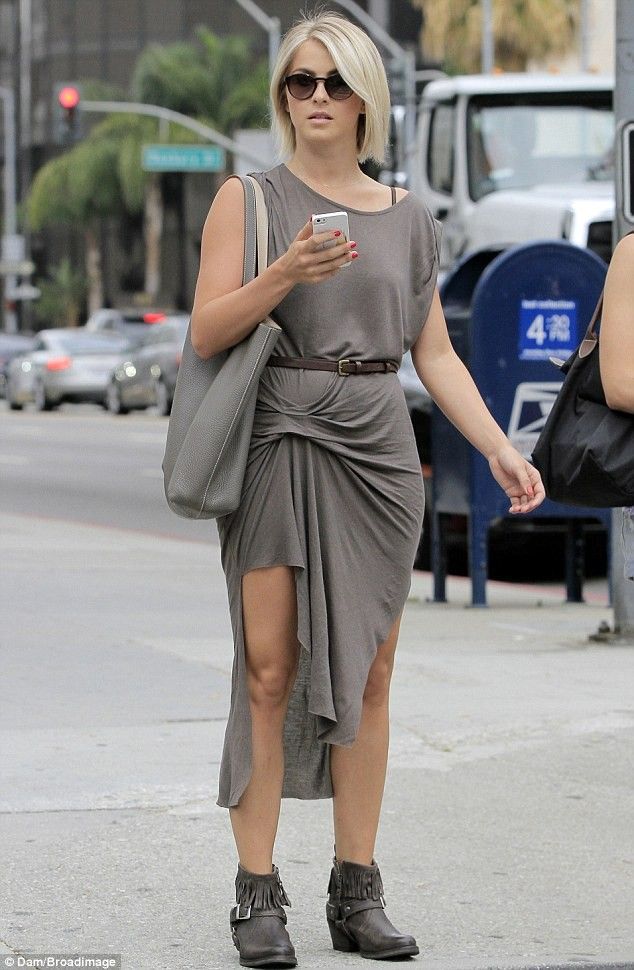 Dam/Broadimage
At first glance, Julianne Hough seems to have opted for a rather boring all-gray outfit, but that illusion is immediately dispelled as the details going into this ensemble materialize one by one. From the rogue bunching of the skirt that adds a high level of dynamism to the well chosen, tassled shoes and back again to the well chosen belt that breaks up the otherwise monotonous color scheme, Hough certainly knows how to throw together a fashionable ensemble!

At just 24-years-old, she possesses an enviably sleek dancer's body
But Julianne Hough was keeping it largely under wraps with a biscuit coloured dress as she stepped out in Beverly Hills on Wednesday.
The Rock of Ages star wore her shiny blonde hair in a sleek bob and teamed her wrap dress with a brown belt and matching fringed boots.

The star clutched a healthy green juice drink in one hand and a large shopping bag in the other as she ran errands in the upmarket city.
She also constantly checked her cell phone during her stroll. (Read More)