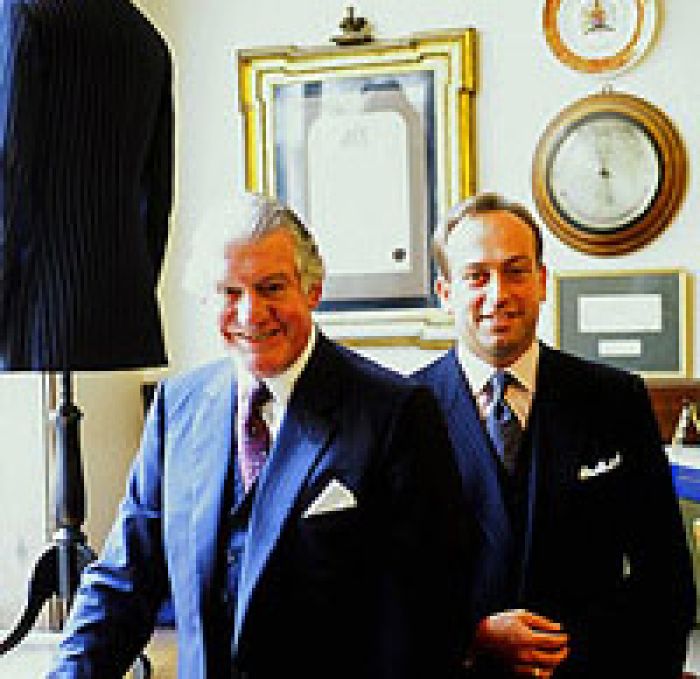 Photo: Henry Poole & Co.
Luxury Men's Apparel: Henry Poole & Co. has been making elegant and comfortable clothing for distinguished gentlemen of the world since 1806.
Charles Dickens, Tsar Alexander II, Buffalo Bill Cody, Winston Churchill, and Charles de Gaulle are offered just to name a few. A couple of queens can be tossed in, too, as the nobleman of couture has also done attire for Queen Victoria and Queen Elizabeth II. They are among the 40 appointments of royalty served over the years by Henry Poole.
Patrons of Henry Poole & Co. expect the best and are demanding of nothing short of extraordinary. The haberdashery has steadfastly retained such standards as originally established by a two-century tenure. It is a tradition.
Labeled the "Founders of Savile Road," in a book authored by Stephen Howarth, the company makes it quite convenient for today's men of distinction to maintain their vaulted sense of fashion decorum, as Poole's tailors and representatives travel the world to accommodate their pedigreed clientele.
Throughout the year, France, Germany, Belgium, Austria, Switzerland, and the United States are countries frequented regularly to service cultured clients. A suit by Henry Poole is fad-proof fashion statement that retains its classic presence with ubiquitous flare.
While trends of fashion rise and subside at a dawn-to-dusk speed, this couturier wizardry is perpetually in style. Ties, socks, and knitwear also are available.
Henry Poole & Co. was featured on the cover of the Robb Report in 2003, and also has been cited on various occasions by the prestigious publication for its renowned status as a clothier extraordinaire of Westminster's fabled Savile Row.
The stalwart clothier recently signed a new 15-year lease to remain on Savile Row, as reported by 24dash.com. In view of the settling of newer, contemporary high-fashion sources into the area, it is good to see that the longest-tenured merchant of the area remains in place.
Check out the venerable firm's website and read the interesting etymology of the word "tuxedo." It is a formal learning experience.
For more information, visit
http://www.henrypoole.com/index.html