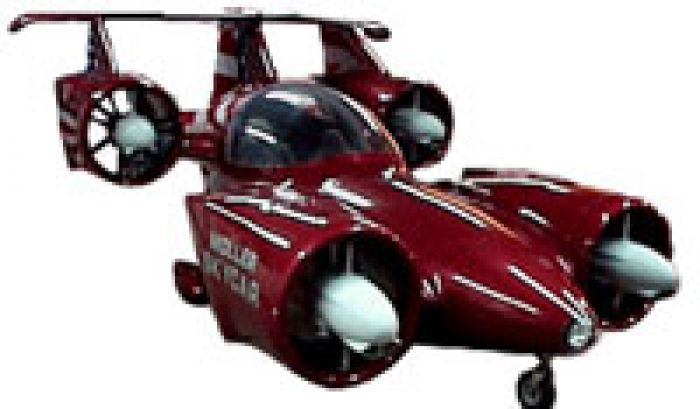 Luxury Aircraft: Every time I am stuck in constipated traffic moving at less than 50 feet per minute, the thought that one day there will be a better way to travel finds itself at the forefront of my mind. Thanks to the crew at Moller International's Skycar, there actually is a solution that is rapidly accelerating toward reality.

The M400 Skycar is a personal vertical takeoff and landing aircraft (VTOL) that has been on the drawing board since the early 1960s. It seats four, gets 20 miles per gallon, has a maximum range of 750 miles, cruises comfortably at 275 mph, has a top speed of 375 mph, and elevates up to 30,000 feet. However, on land, at this time, it only travels around 30 to 35 mph. Although the M400 is a work in progress today, it is definitely part of tomorrow's transportation picture.

Despite an FAA-certified model being more than four years away, Moller has received at least 100 purchase reservations to date. The M400's revolutionary rotary engine, which runs on various types of fuel, is now being produced and marketed by Moller's sister company, Freedom Motors.

When the M400 Skycar is ready for everyday usage, the small aircraft will be automated without a pilot. All occupants will be passengers only. So, no special FAA-issued license should be required to operate it. The FAA and NASA are currently working jointly to devise a safe methodology of managing heavy air traffic for smaller aircrafts. The few Skycars available now are being used for demonstrations and military applications. In limited production runs, the vehicle is expected to cost around $500,000. However, when the manufacturing volume increases, the price of the M400s is expected to be less than $100,000.

China's Ministry of Public Security has arranged for an upcoming meeting with Moller International to learn more about the M400 Skycar's overall capabilities. Did you know that China is the current world leader in the use of train-magnetic levitation? Trains in Shanghai today operating with this technology travel up to 268 mph.