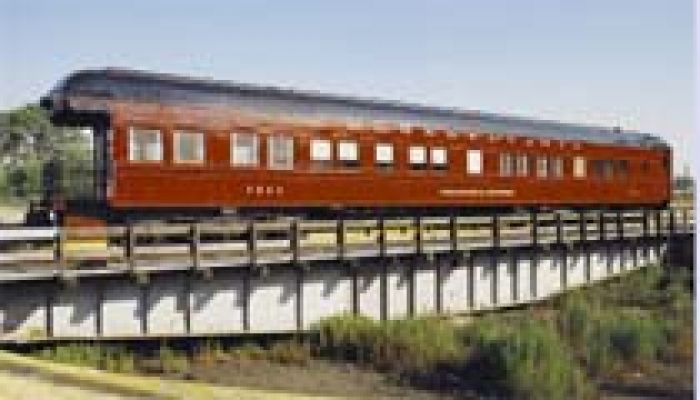 Francis L. Sutter
Luxury Rail Travel: Chartering a private railcar is a great way to experience a slice of Americana that most folk only read about in history books. Traveling by train on the prestigious Francis L. Sutter is retro-fit luxury at its finest. Built in 1914 by the Pullman Company, the railcar was originally known as the Pennsylvania Railroad Business Car 7503, a 90-ton mobile office used for transporting executives of the railroad, highly valued clients, and dignitaries. The oxidized, retired railcar was rescued in 1983, restored and renovated, and put back on the tracks as the Francis L. Sutter.
The FLS is the oldest car in the U.S. capable of traveling 110 miles per hour attached to a modern locomotive. The elegantly appointed railcar can accommodate up to 16 passengers during the day and six overnight guests. Its magnificent circa 1930's opulence is completely intact, as the Pennsylvania Railroad Technical and Historical Society oversaw the tedious restoration of the Old 7503. However,it is equipped with thoroughly modern amenities, such as a cellular telephone system, a DVD system and a CD player. Based upon passengers' preferences, a small library of DVDs and CDs also is available.
Chartering the Francis L. Sutter is a unique outing that offers a yesteryear experience with contemporary indulgences. The Francis L. Sutter is available for around-the-country excursions or short trips. Additional railcars can be added if required. Designated stops and parties can be arranged. A staff of two is provided to handle all creature comforts.
All aboard!