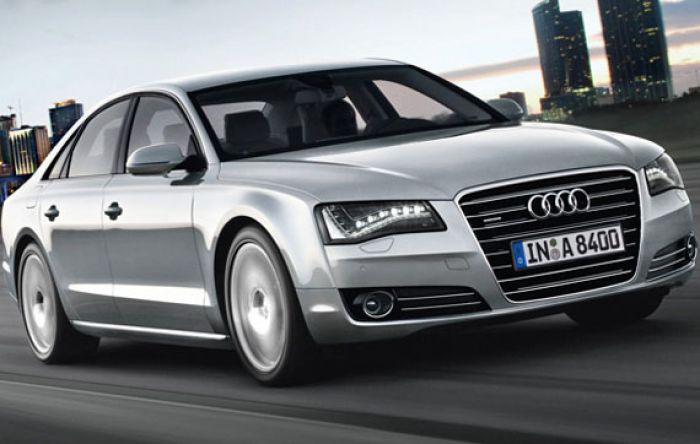 Photo courtesy of Audi
Originally published on JustLuxe: February 24, 2011.
This summer Audi will introduce a new high-security, armor-protected A8 L model, the Audi A8 L Security.

Along with the added amour, the reworked Audi A8 L Security contains numerous features to address various potentially harmful situations. This vehicle could withstand being sprayed with both hard-core ammunition and a grenade attack.

Upgrading the luxury sedan to meet the strictest guidelines in force for a civilian vehicle requires approximately 450 additional hours of work, performed by specially trained technicians.

The security-upgraded version of the A8 L is nearly a ringer for the original model, which is due to Audi foreseeing this altered variant coming to fruition from day one of designing it. All of the major components were chosen based on deformation properties to ensure optimal performance in crash-performance testing.

This is not an outsourced retrofitted vehicle, as Audi is at the helm from inception through completion of the process. The modifications are done at an unspecified workshop where the most stringent security measures are enforced. Even cell phones are prohibited on the premises. Upon the completion of the transformation, the beefed-up vehicle is returned to the Audi factory where the assemblage of the enhanced sedan is completed.

The prototype of the A8 L Security is a modified aluminum production body that was constructed at its Neckarsulm plant in accordance to the Audi Space Frame (ASF) principle. The vehicle was officially certified at a German-government ballistics testing facility and is in compliance with class VR 7 ballistic protection standard as per BRV 2009 guidelines. "BRV" stands for bullet resistant vehicles.

The car's resistance to explosions also was tested. Receiving a class VR, this certification means that the sheet metal and glazing in the passenger cell must withstand firing from NATO hard-core ammunition. The armoring on the sedan even complies with the criteria for class VR 9 and VR 10 in certain areas. The interior armoring weighs in at approximately 1,587 pounds.

Special training will be offered for buyers of the security-laden three-ton-plus sedan. The 2011 A8 L Security will have a 500-horspower 6.3 liter W12 engine. In 2012, two engine options will be available.