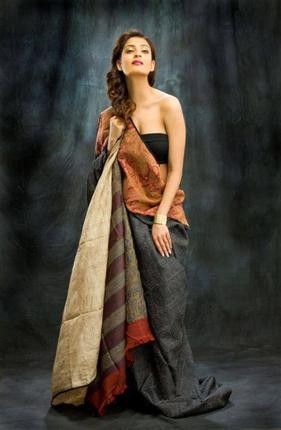 Image via thehindu.com
It's not often that a new material explodes into the fashion scene, but Khadi is making its way throughIndianfashion like wildfire, and it's already breaking its way into the west as well! This is especially ironic, considering the material was embraced specifically as a counter to encroaching western values over half a century ago.
Danish textile designer Bess Nielsen's store in Paris is named after it. It has made it to the Star Wars films. Designer Christina Kim's haute label Dosa stocks it. And what is it? Nothing but our humble freedom fighter, khadi. Yes, khadi is now on its third fashion outing and, boy, is it in the limelight.
Life for this handspun fabric certainly didn't start on the ramp. On the contrary, if Mahatma Gandhi, the noble promoter of the cloth, were alive today, he might well go on a satyagraha to protest its takeover by the fashionistas! Or, shrewd politician that he was, he might just approve of this peculiarly Indian conquest of the fashion world. (Read More)