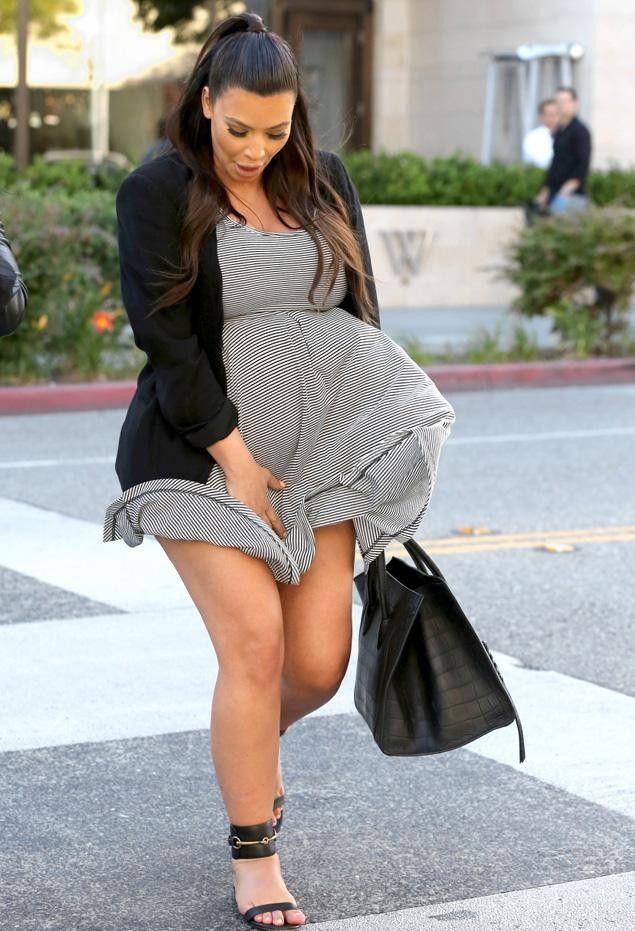 Image via nydailynews.com
Alright Kim, this one's forgivable. There isn't much you can do much with fashion when you've got a baby that close to coming, and compared to what you've been wearing, this dress was extraordinarily tame. I can't say that horizontal stripes are the best choice with belly bulging, but the windy mishap is probably one of your least noteworthy maternity mistakes, and yes Kim, there have been... mistakes.
Up, up and away.
Kim Kardashian had a Marilyn moment while out and about Wednesday in Beverly Hills.
After much scrutiny on her fashion choices while pregnant, the mama-to-be stepped out in a sensible stripped maternity dress paired with a black blazer but with one strong gust of wind Kardashian found herself struggling to keep her dress down.
The 32-year-old reality starlet showed a bit more leg than she had intended but she handled the embarrassing moment with stride as she laughed it off in front of the photographers who caught the wardrobe oops. (Read More)