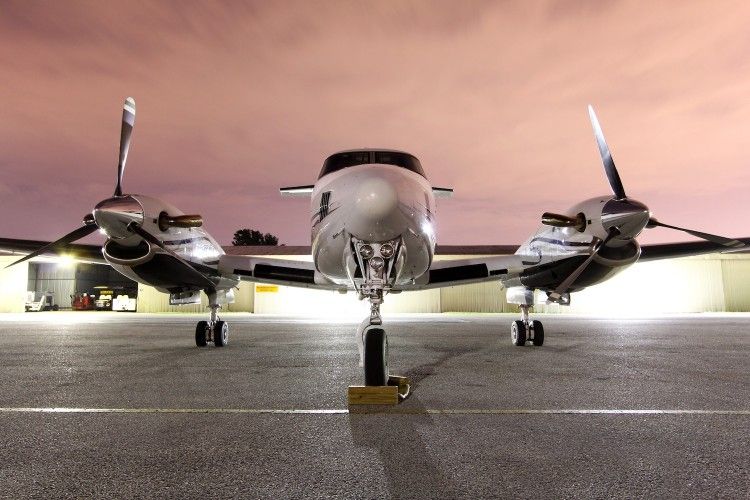 Stratos
Developed by Hawker Beechcraft, the King Air 200 and its related family of planes are a line of high performance, twin-turboprop aircraft. The King Air series has been in continuous production since 1974, making it the longest-lived civilian turboprop plane in its class.
Turboprops are very efficient at lower flight speeds (below 450 mph), and typically have very good short-takeoff and landing (STOL) capability. Though this type of engine can be relatively expensive up front, longer-term the cost savings from using turboprop engines becomes apparent, as they can operate at the same speeds as small turbofan-powered aircraft but burn only two-thirds the fuel. Because of this efficiency, turboprop flights make up a significant percentage of private plane charters each year. Of these flights, Beechcraft King Airs make up a majority of aircraft used.
The King Air 200 is one of the most versatile aircraft ever produced, and models have been used for all manner of applications worldwide. Special units have been used for resource exploration, maritime patrol and nautical mapping and navigation projects, as well as use by the U.S. military for VIP transport and electronic surveillance. Many other governments and air forces use King Air planes as well.
The aircraft offers performance and executive comfort as well as short, remote airstrip capability. The King Air 200 can take off from runways as short at 3,500 feet, virtually impossible for most light and mid-size jets, and can hit speeds of 290 mph while cruising up to 1,800 miles. With a passenger capacity of 6-12 people, the King Air offers utility and efficiency to charter fliers, yet also features aesthetics and quality that any operator or passenger would appreciate.