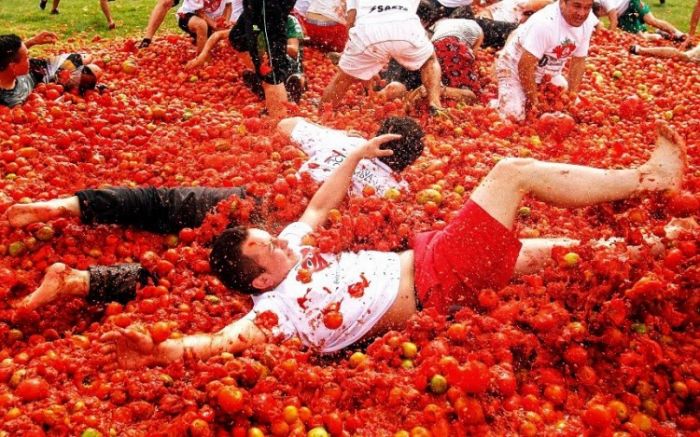 The Flying Tortoise
The day you have saved decent money and are ready to see a bit of the world, you should book a Europe tour package and head to Spain to check out the oh-so-famous Tomatina Festival or La Tomatina. Despite being of Spanish descent, almost everybody in India knows of it (it is famous you see). Also, films like Zindagi Na Milegi Dobara have helped its cause! Cynics may crinkle their faces and scoff. Critics may blast the organizers for wasting tons of edible tomatoes. But life is about celebration. Tomatoes can grow again. The festival is a deep-rooted culture and tradition more than anything else.
La Tomatina takes place in the last Wednesday of every August at a small town called Bunol. This place wouldn't have made itself big on the pages of geography had it not been for this globally popular festival.
It doesn't require you to be a know-it-all to know what La Tomatina is all about. But for those who-know-nothing, it is a food fight. Actually, it is the biggest food fight in the world. Played with nearly five tons of tomatoes and enjoyed by nearly 20k people, this is a battle for food (and you don't need to be a glutton to relish every bit of it).
So, how did it all began?
Legend has it that one day, someone tossed a tomato over someone. And then, everybody started throwing tomatoes at each other. Soon, it took form of a tradition at Bunol. In a few years, the town of Valencia jumped into the thick of things and before long the whole of Spain was under its grip.
You can be anywhere in Spain to enjoy this festival, but try to be at Bunol. This is where it all started and this is where things are the juiciest and the reddest.
Intense excitement and preparations precede the D-day (rather the T-day). There is a murmur around the town and people sport La Tomatina T-shirts in anticipation.
What to wear once this T-day arrives?
If you are a guy, better chuck off that tee and go bare-chested. Just slip into a pair of shorts to protect your modesty (time to flaunt your abs and packs, we say). If you are a girl, you should stick to a plain tee. Lot of women prefer to flaunt bikinis with shorts. The choice is up to you. Just make sure that you are not wearing something new and fancy as chances are that you won't be able to wear them anymore.