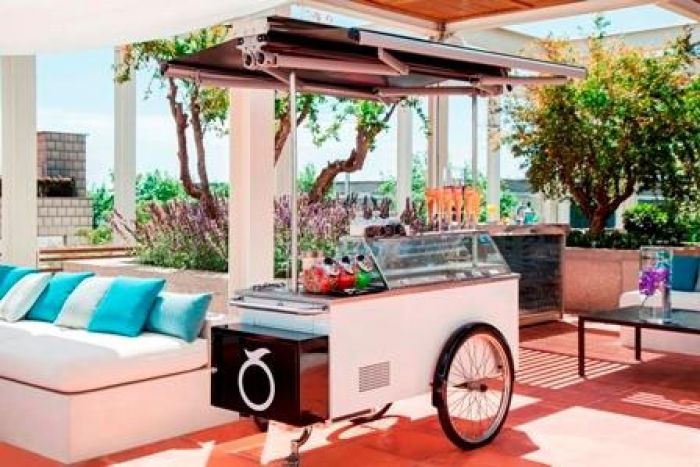 Photo Credit: Margaret Stepien
A leader amongst exclusive worldwide destinations, Hotel Arts Barcelona has embraced a luxury lifestyle trend which is rapidly spreading along the glimmering Mediterranean Coast. The most elite 5-star destinations, taking their cue from American brunchers, have crafted creative brunch menus to cater to late sleepers and afternoon loungers intent on achieving ultimate relaxation on vacation. The rich, famous, and wealthy can now bask in breezes on terraces overlooking unspoilt coastlines and azure seas. A sense of communion will prevail as holiday-goers dress in their Sunday finery before biting into bountiful brunches. Leaders of the pack in this gastronomical movement include exclusive resorts in Spain, France, Brazil, Greece, Monaco, Sardinia, Cyprus and more.
One particularly expansive menu is that to be offered by Spanish cuisine and accommodation trendsetter, Hotel Arts Barcelona. Known for their iconic Peix Statue designed by Frank Gehry, they launch their first ever summer brunch menu this May. Views of the nearby artwork will set the scene, as accompanying strains of lively music tinkle across the terrace. A stone's throw away, the ice cream man will be stationed with his cart, prepared to cater to the sweet tooth of each excitable tot. Parents will be equally delighted by the outdoor bar providing guests with their drinks of choice, Gin and Tonic a specialty in this brunch extravaganza. For those who'd prefer afternoon coffee over cocktails, a specialty menu will offer espresso, cappuccino, iced coffee, and Irish coffee.
Adding to the prestige of the brunch are servers to provide personalized attention and suggestions, which cannot be afforded in travel-typical breakfast buffet settings. The menu has special options for children, as well as a prixe fix menu for adults. Every option has been specially selected to provide palate pleasers for even the pickiest of pals, parents and progeny. Michelin-starred Chef Sergi Arola's menu highlights local ingredients, and includes crepes, eggs benedict with artisanal smoked salmon, gazpacho, Duck Magret, apples and foie gras, as well as smoked meats and cheeses.
A Dessert buffet is available after starters and main courses, courtesy of resident pastry chef Sylvain. After the meal, guests may wander the gardens which sport native aromatic shrubs while enjoying sumptuous sweets. In addition, visitors will be welcomed to engage in diverting rounds of table tennis and foosball, making Hotel Arts Barcelona the place to be each Sunday afternoon this summer.
Photo Credit: Margaret Stepien
Photo Credit: Margaret Stepien
Photo Credit: Margaret Stepien
Photo Credit: Margaret Stepien