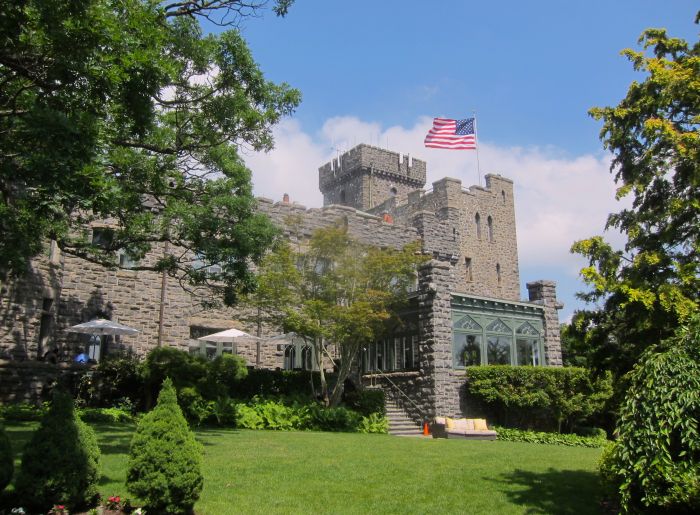 Photo Credit: Michael Reiss
Just a mere hour away from the bustle of New York City lies the tranquility of the Hudson River Valley, full of history, natural beauty, charming hamlets, soaring mansions, foodie finds and iconic sites to explore. With Stewart International Airport now launching flights from Europe on Norwegian Airlines, this may soon be the next trending tourist spot.
The Hudson Valley offers plenty of lodging options for the discriminating traveler. Only 30 minutes north of Manhattan, The Castle Hotel and Spa in Tarrytown boasts over 100 years of history and harkens back to America's Gilded Age.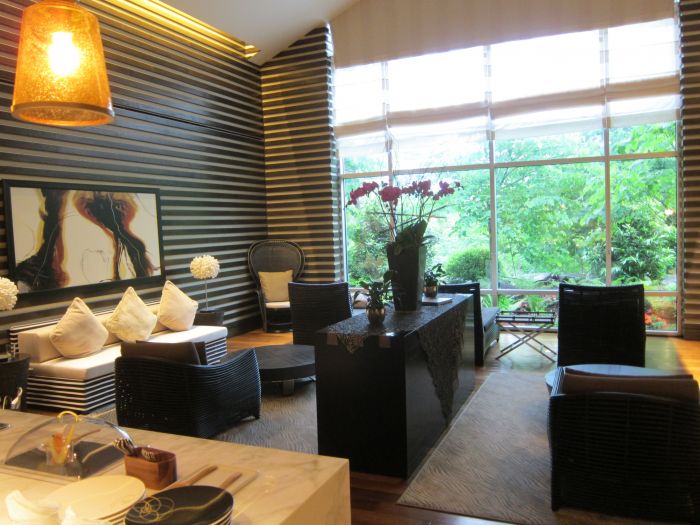 Photo Credit: Michael Reiss
The sleek, contemporary fitness center and spa offers a poignant contrast to the impressive castle architecture. The sprawling manicured gardens, and award-winning restaurant, Equus, make The Castle ideal for a special event or for a city escape. If you want a taste of living life large on the Hudson, The Castle Hotel and Spa fills the bill.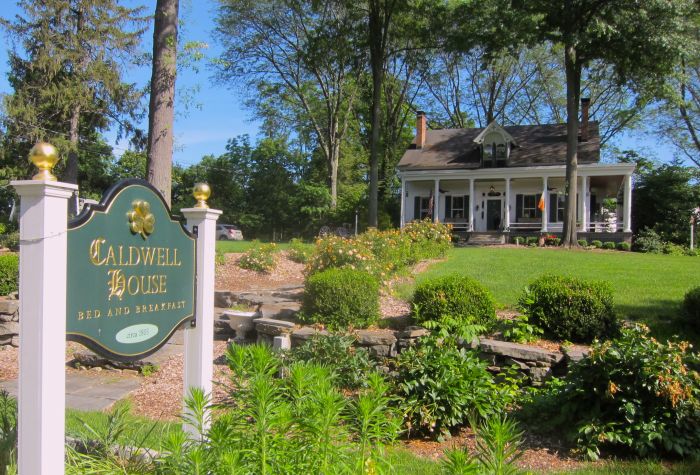 Photo Credit: Michael Reiss
The Caldwell House, part of the exclusive Select Registry, is a luxury bed and breakfast option. It is strategically located in Salisbury Mills, just minutes from a host of world class sites including West Point, Storm King Art Center and Brotherhood Winery. Hosts John and Dena Finneran provide an exceptional level of accommodation with an authentic attitude of customer care. Guests find peace and tranquility roaming its grounds, using it as a launching pad for daytrips in the valley or hosting a special occasion on site. Our own experience was echoed by fellow guests at breakfast who all agreed that this was a stay worth repeating and recommending.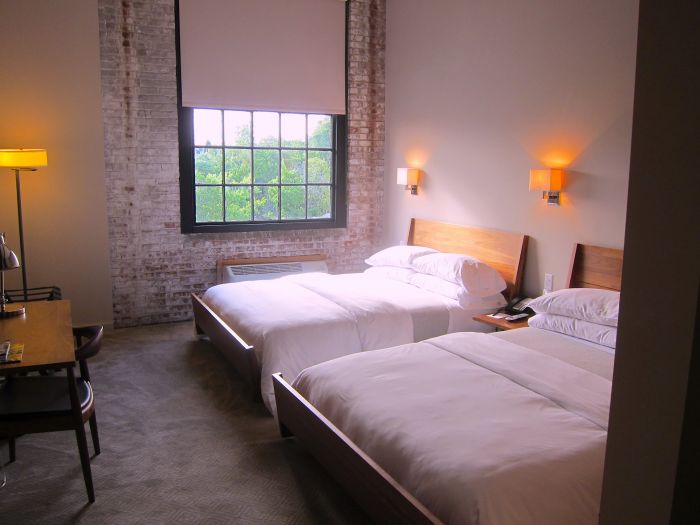 Photo Credit: Michael Reiss
The Roundhouse Hotel, located in Beacon, offers a thoroughly modern boutique hotel experience housed in a repurposed historical warehouse overlooking picturesque Beacon Falls. Keeping the exterior intact, the interior incorporates all the latest technology in a sleek contemporary motif designed by David Rockwell. Guests often take the train from New York City deliberately to stay in this hotel and dine at the highly acclaimed Roundhouse Restaurant by Terrance Brennan.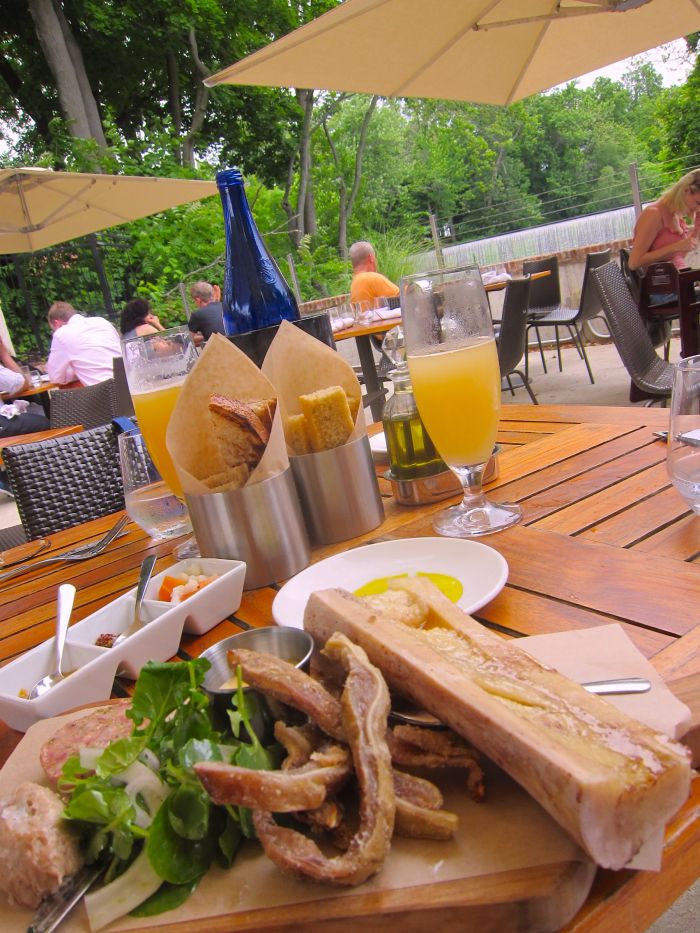 Photo Credit: Michael Reiss
At the Roundhouse Restaurant, Chef Terrance Brennan, former restaurateur of the Michelin-starred, Picholine in Manhattan, has passionately embraced whole farm cookery with most ingredients coming from a 10-mile radius. With his own foragers and farmers eager to supply his needs, Chef Terrance boasts that "the ingredients dictate the menu, not the season. What comes into the back door of the kitchen is served to diners just hours later."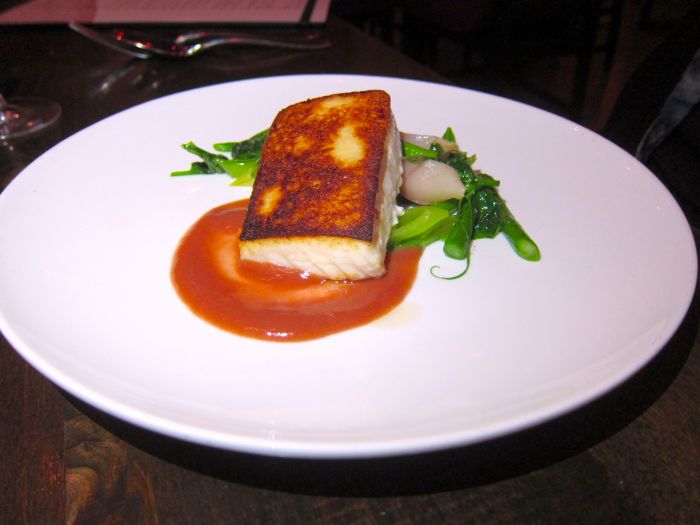 Photo Credit: Michael Reiss
But make no mistake, each of Chef Terrance Brennan's dishes is a creative, refined work of art, with depth of flavor and sophisticated nuances that excite the palate. The Tasting Menus are a culinary tour de force.
Wine pairings, offered as an option to showcase the local growing regions, add a thoughtful enhancement to a stellar gustatory evening. Some highlights of the Roundhouse's menu include: Cucumber 'Gazpacho,' Peekytoe Crab Salad, Dill Tuile, Pickled Stems; Lobster Risotto, Acquerello Aged Rice, Foraged Spring Vegetables, Jus Presse; Chatham Blue Cheese Textures, Reisling 'mirror;' Strawberry Pavlova, Organic Strawberries, Lemon Verbena Diplomat, Balsamic Strawberry Coulis.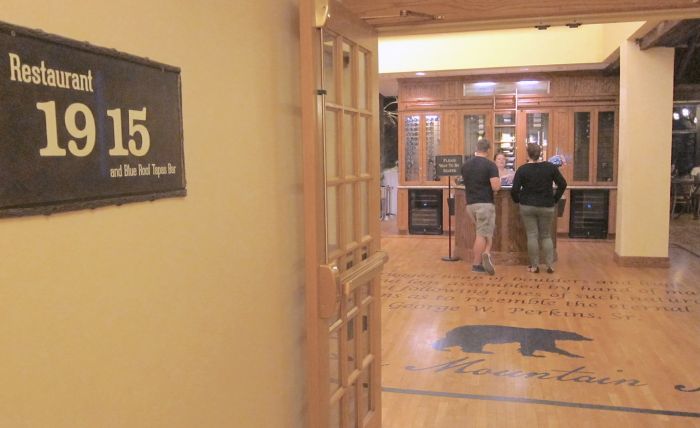 Photo Credit: Michael Reiss
located at Bear Mountain Inn, Restaurant 1915 is a foodie find worth a trek up the mountain. Its scenic location and lodge décor hint nothing of the creative cuisine found within. Executive Chef Alex Ghee and his staff are committed to sourcing locally produced ingredients and delivering plate after plate of generously portioned, delicious dishes.
At Restaurant 1915, even the detailed descriptions do not prepare you for the finesse of the finished products. And, finish we did, every morsel, in anticipation of what might come next.
Some of the highlights of our five course dinner—appropriately paired with their most requested wine selections—included Potato Leek Soup with Crispy Pancetta and Truffle Essence, House Smoked Duck Breast with Local Greens and Goat Cheese, Pan Roasted North Atlantic Halibut, Grilled Asparagus, Lemon Risotto, Lobster Bbrodo and Fresh Pea Shoots. An ethereal flourless chocolate cake sent us home in awe of this young talent and his passionate pledge to serve the finest food possible in this remote mountain hideaway less than an hour from New York City.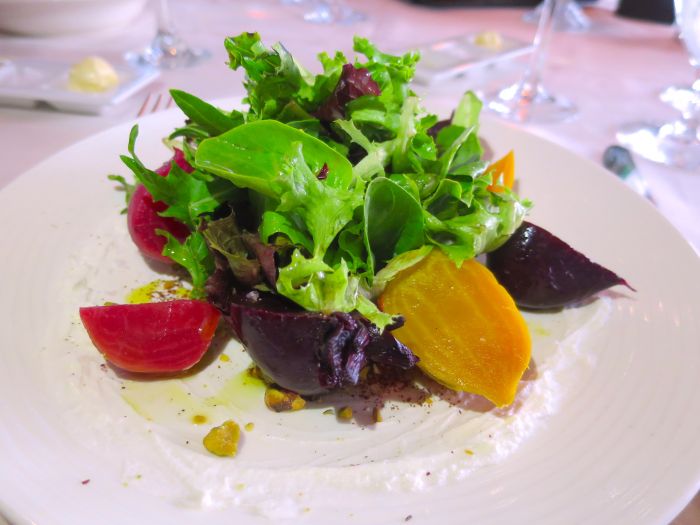 Photo Credit: Michael Reiss
Dine at Equus, the award-winning gourmet restaurant that is part of the Castle Hotel and Spa on the Hudson River. This atmospheric space—replete with old world wood panels—opens to a floor to ceiling windowed garden room that overlooks the Hudson River and its nightly sunsets. Could the food possibly be as good as this awe-inspiring setting? The answer is yes. It's great!
Chef de Cuisine Keith Suarino and his Sous Chef Victoria Osborn use seasonal produce to ramp up classic continental and American favorites--making the expected classics pop with nuance and creative ingredient combinations. The Black Truffle Risotto—redolent with mushrooms, parmesan and black peppercorns--was memorable. "The Cod" was moist and flaky with a delicate, crispy crust surrounded by basil foam.
The wine list, organized by the talented Food & Beverage Manager, Mathieu Sylva, offers varietals from international wine regions to complement the dining experience. His Wines By-the-Glass List is exemplary for breadth and quality. Equus's seasonal Prix Fixe Menus are a notable value proposition.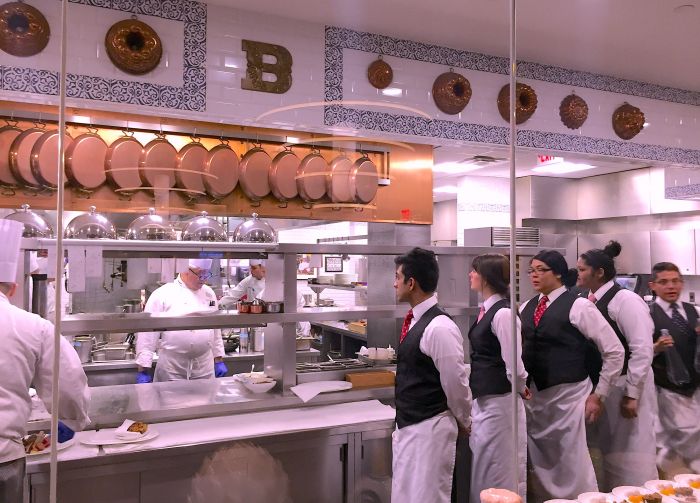 Photo Credit: Michael Reiss
No trip to the Hudson River Valley would be complete without a visit to the CIA, The Culinary Institute of America at Hyde Park. This Harvard of the Culinary World has trained the top chefs of our country since its inception after WW11. Its prestige and stature on the world stage of cuisine has risen to meteoric heights in recent decades.
At the CIA treat yourself to a gourmet meal at its student-run Bocuse restaurant, not only a great value, but a fine dining experience. The elegant ambience and wall of wines competes with the open kitchen for attention, as you watch the drama and excitement of food preparation and service unfold.
Bocuse's menu reveals a nod to French classics and technique with a modern twist on ingredients and preparation. Although each item was well executed, some standouts included: "Endive Au Gratin and Toulouse Sausage With Parsley Root, Ham Maxim and Raclette Foam;" "Softshell Crabs with Potato Terrine, Charred Romaine, Green Papaya, Sweet and Sour Chili." And can not over look the "Tableside Ice Cream and Classic Treat Preparation." The wine pairings were expertly selected by our server, Joey, who seemed to have a knack for complementing each dish with just the right French varietal.
Even though the restaurant was full (a three course, prix-fixe dinner for $45 is offered Tuesday–Thursday ), service and execution was commendable, considering the entire operation has a constant turnover with new students starting every three weeks! The CIA has a reputation for excellence to uphold, and, from the comments of satisfied diners, they are making straight A's.
Photo Credit: Michael Reiss
Sightseeing options for every interest abound in the region. The Storm King Art Center is a world class outdoor sculpture garden boasting over 100 major works with Calder, Noguchi, and Maya Lin among the many internationally reputed artists on display. The 67 acres of manicured grounds are perfect for strolling or viewing from the tram tours. The Café in the outdoor pavilion offers freshly made locally sourced soups, sandwiches and salads that are perfect to enjoy as you overlook the sprawling grounds and monumental sculptures.
West Point is a popular stop with informative hourly tours offering a glimpse into the elite military establishment's educational campus and training grounds.
A tour and tasting at Brotherhood, America's Oldest Winery-- established in 1839--reveals little known facts about our nations wine production and offers samples of numerous varietals from their still robust production.
Photo Credit: Michael Reiss
Visits to the many mansions and historic homes including Staatsburgh State Historic Site, FDR's home, Springwood, the FDR Presidential Library and Museum, and Kykuit, The Rockefeller Estate, all add to the pleasure, enjoyment and history that the Hudson Valley has to offer.Explore now what the wealthiest people in America's Gilded Age discovered early. You may fly into New York City, but don't return home without experiencing the richness of the Hudson River Valley.