Love Brand & Co., the brainchild of young London designer Oliver Tomalin, the new socially responsible lifestyle brand, set up only last year,  plans to expand through a series of ready-to-wear products, each intrinsically dedicated to a relevant charity.
The first, 'Trunks for Trunks' (swimming trunks for endangered Asian elephants) inspired and motivated by the plight of the iconic animal. Tomalin saw a great opportunity to help the Elephant Family in a credible and savvy way, by creating his superbly designed collection of state of the art men's swim.

Massive habitat loss has caused Asian elephant numbers to plummet by 90% in the past 100 years, earning them an unwanted place on the IUCN (International Union for Conservation of Nature) red list.

"Elephant Family", founded by Mark Shand, brother of The Duchess of Cornwall, exists to save this iconic animal from extinction in the wild, along with tigers, orangutans and all the other animals who share their habitat. Working with local people and partner NGO's, "Elephant Family" fund x 12 projects across Asia and invest where the charity is needed most: to protect habitat, prevent conflict and reconnect the forest homes of the endangered Asian elephant.
It is the ethos of Love Brand & Co. to emphasise the idea of associate a product to a problem or cause. Oliver Tomalin, Creative Director, says that "If people can see a product and then immediately associate it with a problem, we will be constantly aware of the problem and will want to resolve it".

This SS12 collection "Trunks for Trunks" by Love Brand & Co. has a classic European cut (above the knee) loosely tailored for a stylish and comfortable fit in a wide selection of 8 icon block colours, 2 stripes and 5 limited edition prints. Each is available across 7 sizes (XXS-XXL) for the boys in the family. Offering cool swimwear with a conscience for men, boys and babies alike.

The design is extremely thoughtful with notable details including the silver alloy drawstring aglets in the shape of elephant tusks. The connecting element is even stained red to act as a symbol of past ivory pouching. The Love Brand & Co. engraved eyelets are also used both for sport water escapes on the back and on the front waistband for smooth running of the durable weave drawstring. The high performance fabric is extremely quick drying and is beautifully constructed with state-of-the-art craftsmanship.

For the care of the garment, they are presented in a reusable 'ivory white' drawstring pouch complete with the Love Brand & Co. logo, which adopts its British national colours, and borrows the elephant motif, using 2 elephants which come together to form a heart. The trunks are also luxuriously packaged in a white glossy, cylinder gift box, also a reusable container, encouraged to continue life as a change collection tin.

Love Brand & Co. fans can feel good from both wearing excellent quality apparel and from contributing a donation to a deserving cause. 5% of gross profit is donated to the charity Elephant Family. Its founder, Tomalin, calls his concept 'Bisociation' adopting the term coined for the conceptual blending of elements drawn from two previously unrelated mediums. He suggests a deeper cultural shift where consumers will start to consciously and sub- consciously associate products to newly associated ideas for charitable giving.
Visit www.lovebrand.com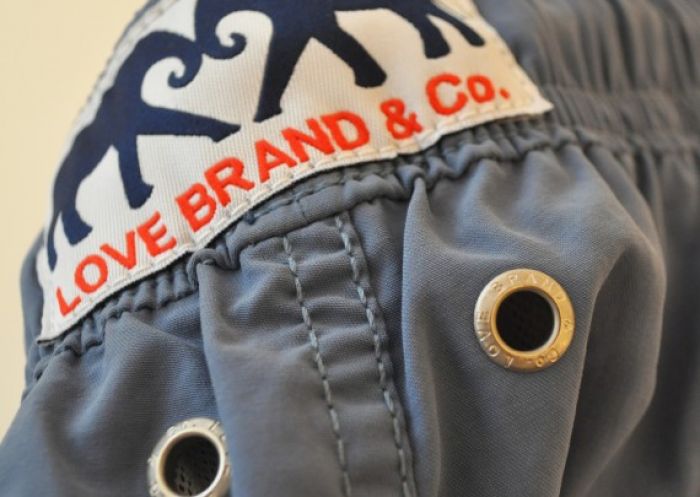 Love Brand & Co.
The logo adopts its Btitish national colours and borrows the elephant motif, using 2 elephants which come together to form a heart.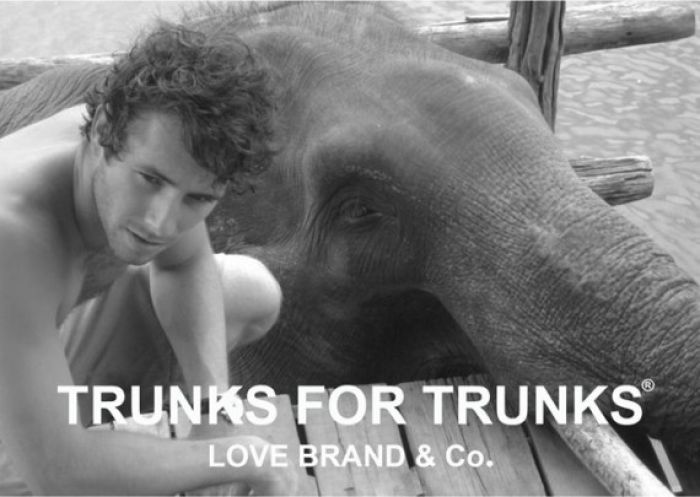 Love Brand & Co.
'Trunks for Trunks' - Swimming trunks for endangered elephants!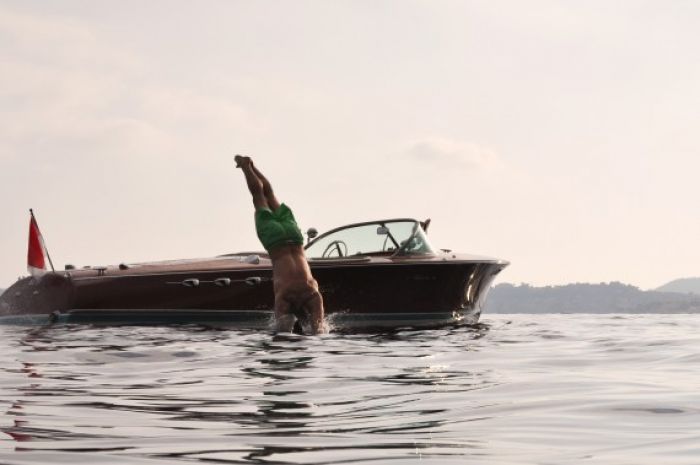 Love Brand & Co.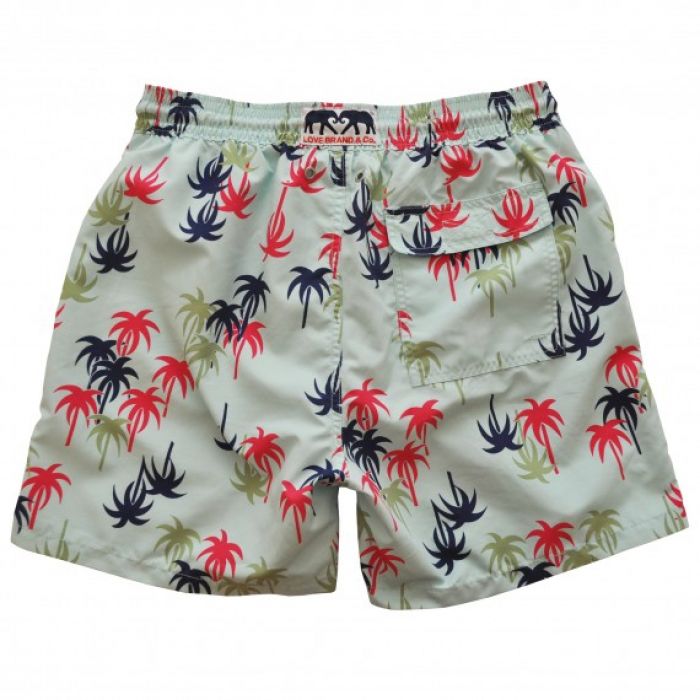 Love Brand & Co.
Palm Breeze - Swim Trunks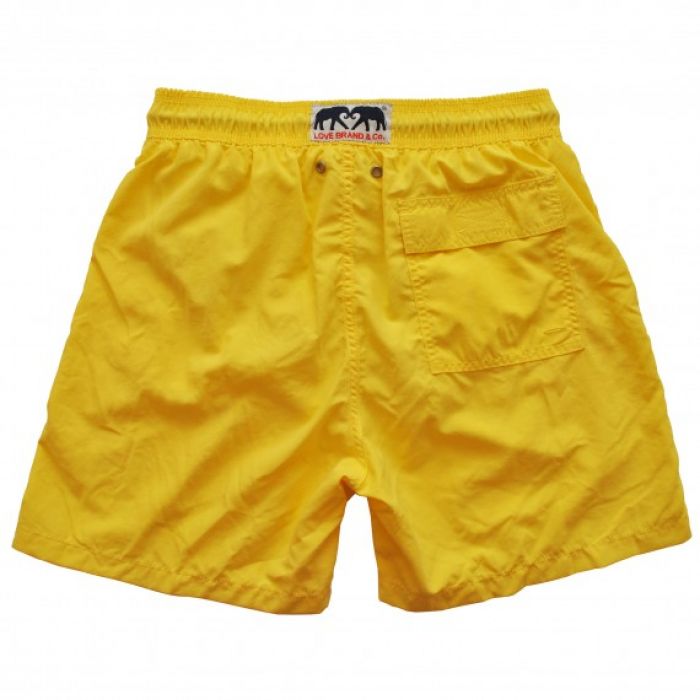 Love Brand & Co.
Lemon Yellow - Swim Trunks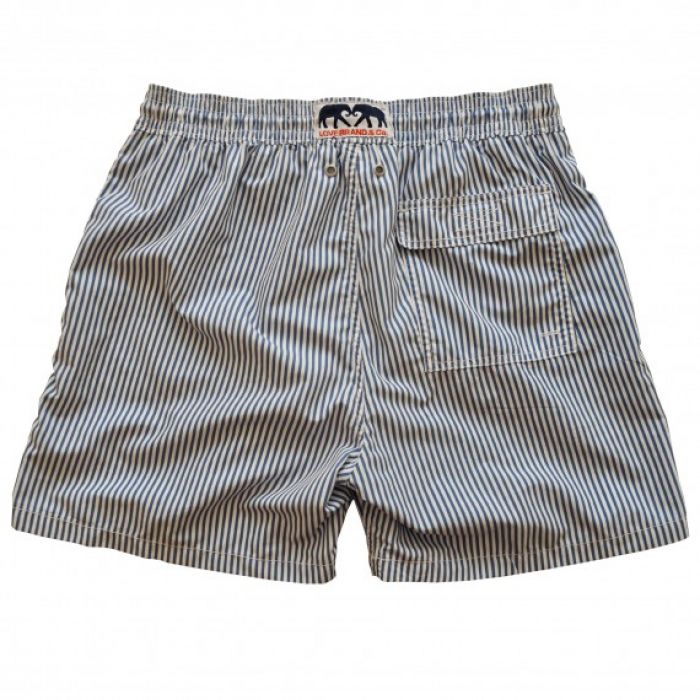 Love Brand & Co.
Navy - Swim Trunks