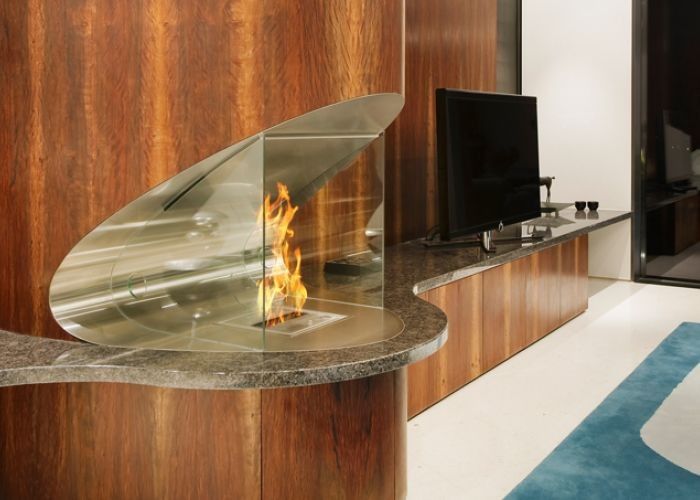 Ecosmartfire.com
Historically, fireplaces were architectural structures of the house used for practical purposes: heating, cooking and heating water for laundry. In the following years, fireplaces were used to heat the home or to add beauty to a room. Nowadays, aside from becoming the architectural focal point of the living room, fireplaces give off a relaxing ambiance from its fire. Here are the major features of a contemporary fireplace:
Cutting-edge design
Crafted from the hands of world-renowned designers, fireplaces of today are no longer a painful sight. What once was bulky and dirty is now sleek, elegant, or bold and daring, depending on the design and function. Some homeowners purchase fireplaces not for heating up the room, but as additional decorations to their home's furniture.
Functionality
Some features may have evolved, but its primary function - which is heating up a room - is still present. Contemporary fireplaces have even better heating systems as the heat can be contained inside the house, compared to old fireplaces that only allow heat to escape.
Versatility
Do you have an old wood or gas fireplace that is inefficient and unsafe to use? Thanks to fireplace grates and inserts, you may now utilize existing fireplace space without having to spend or rebuild the original structure. Grates also maintain the traditional look of the fireplace.
Years ago, fireplaces only remained indoors. Nowadays, fireplaces can also be located outside: by the pool, by the garden, and the patio to add attitude and balance to your home's overall design. While some fireplaces still work with plugs, others do not need electricity - making it very portable.
Easy installation
In this age, you don't need to demolish anything for you to install your fireplace. Some fireplaces are already freestanding and don't need a chimney. They are very easy to install and can easily be transferred from one room to the other without hassle. You can even pack them and bring them along when you move to a new place.
Non-hazardous to health
It was only after a while when people learned of the health risk posed by fireplaces. The Environmental Protection Agency warns that smoke may smell good and keep you warm, but is not good for your health. To combat this, some companies turned their heating devices into something electrical - thus, electric fireplaces.
Eco-friendliness
Some companies have worked towards making fireplaces "greener." EcoSmartFire has provided creative fireplace design solutions that are friendly to mother nature. Instead of running on electricity or burning wood, these fireplaces use a sustainable fuel called bioethanol, which is actually denatured alcohol made by fermenting the sugar and starch of plant by-products. The combustion also results in a clean emission: heat, steam, and CO2.
Provides entertainment
Who would have thought that fireplaces could provide entertainment? Nowadays, the beautiful dancing flame can give a calming effect. Whether situated outdoors, in a landscaped garden, or the living room, fireplaces can be welcoming and calming.
Ecosmartfire.com