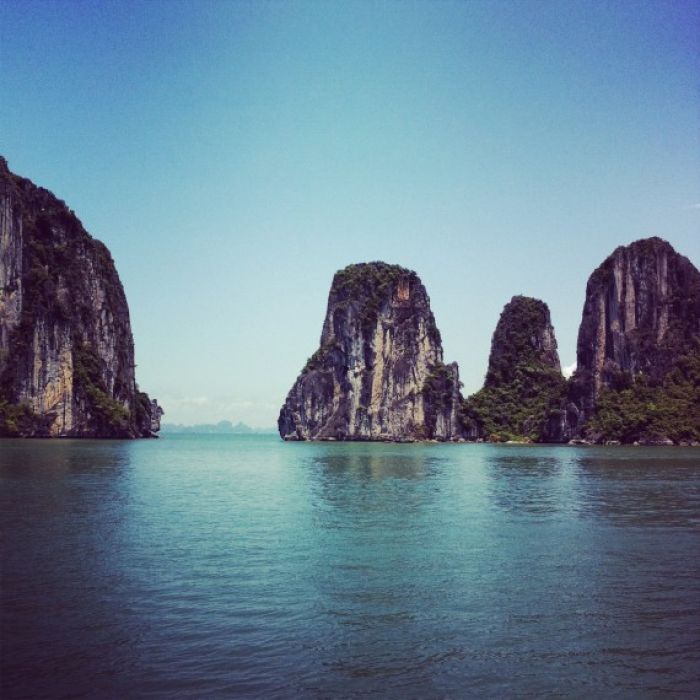 The Purple Passport
I'm just back from a wonderful ten-day trip to Vietnam with my husband, where we spent time in Hanoi, an island near Nha Trang, and Ho Chi Minh City. Our visit fell during the country's springtime, and although temperatures and rainfall were a bit higher than during prime-season winter, we were glad we didn't have to contend with monsoon season.
That made it easy to amble about town in Hanoi, where one of the highlights was a walk through the picturesque, bustling, and historic Old Quarter, with its traditional shops, street vendors, and food offerings. But any street encounter in Hanoi ultimately results in a brush with motorbike madness, so we were glad to be able to escape to the tranquility of the beautiful Sofitel Metropole, the best hotel in town. We loved taking in its colonial architecture (stay in the historic Metropole wing, unless you can spring for the grand premium room in the Opera Wing), stunning alfresco bamboo bar, and newly discovered underground war bunker.
For an even more complete break from the Hanoi hustle, we headed to Ha Long Bay, an absolutely don't-miss day (or overnight) trip from Hanoi. We took a luxury private boat and feasted on an on-board five-course meal (use Life Resorts to book your complete itinerary).
After a busy few days in Hanoi, Six Senses Ninh Van Bay near Nha Trang was a perfect romantic retreat. Located on its own picturesque private island, each villa at this five-star resort features its own private pool and separate living room.
We wrapped up our journey in Ho Chi Minh City, or Saigon as the locals call it, which felt more modern and Westernized than the rest of the country. But reminders of the city's past abound; we especially enjoyed our visit to Reunification Palace, the home of the President of South Vietnam during the Vietnam War. Guests can visit both living quarters and the underground bunkers and war rooms used during the conflict. All in all, we left Vietnam with as much appreciation for its lively metropolises as its placid natural beauty−a perfect balance!
The Purple Passport
Sofitel Metropole
The Purple Passport
Life Resorts Ha Long Bay