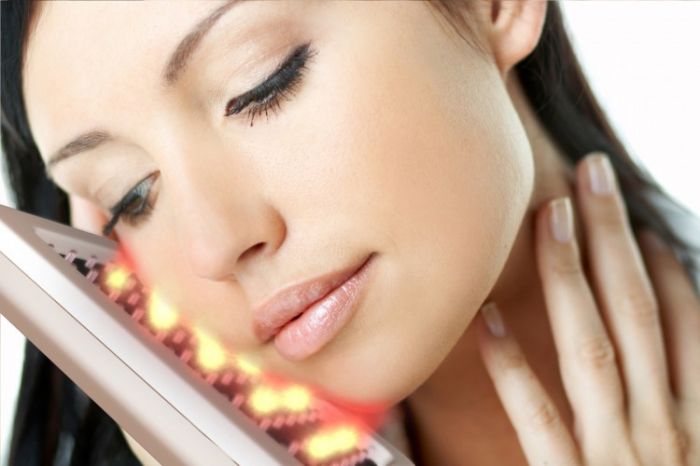 LED Technologies
Beauty devices have become a mega category within the skin care industry and continue to become more and more widespread. The popularity of this category is being compared to the revolution that electric toothbrushes and curling irons introduced to their markets. It's an exciting time within the skin care market as beauty devices transform women's ability to obtain and maintain beautiful skin.
Beauty devices such as light therapy systems, cleansing brushes, microcurrent units, and microdermabrasion devices have filled a unique hole within the skin care world bringing dermatological procedures right into the home. 
LED light therapy platforms use cutting edge technology to drive healing and therapeutic LED (light emitting diode) wavelengths deep into the skin where they spark very precise reactions within the cells. Red, infrared, and yellow wavelengths stimulate collagen and elastin production, increase the energy within the cells, promote healing, and increase circulation. Blue light emitting diodes have been shown to kill acne causing bacteria and green LEDs are reported to help with hyperpigmentation.
Cleansing brushes, just as electric tooth brushes, offer an intense cleansing experience that thoroughly removes dirt, toxins, and debris from the surface of the skin. Not only does cleansing the skin with a cleansing brush promote healthier skin in and of itself but this process also allows your other skin care products to penetrate into the layers of the skin more efficiently.
Microcurrent devices use very precise and small electrical currents to stimulate the underlying facial muscles, increase circulation, and spark collagen and elastin production. These units are touted as non-surgical facelifts due to the fact that they reportedly lift the contours of the face and neck by strengthening the facial muscles.
Microdermabrasion units give women the tool they need to seriously exfoliate their skin at home. These intense treatments remove dead skin cells while gently polishing the surface of the skin. The results are immediate as the skin looks and feels softer and smoother and over time these treatments increase cellular turnover and stimulate collagen and elastin formation.
Devices such as these produce immediate results coupled with long term effects making them highly sought after. These tools tackle skin conditions ranging from anti-aging concerns to acne, rosacea to scarring, and everything in-between.
The appeal of beauty devices continues to grow as their results are equivalent to procedures offered in doctor's offices. When factoring in the amount of time and inconvenience expended on travelling to a spa or doctor's office women all over the world are realizing the benefits of owning their own beauty devices.
Technological advances within this category have given women more control over treating their skin while saving them time and money; two precious commodities. As more and more women discover the power and see the impressive results produced by these beauty devices they are jumping in whole heartedly ready to create their own unique spa experience at home. 
Tua USA
Cleansing System
Tua USA
Microcurrent Device
Qusar Bio Tech
Red Light Therapy Device
PMD Microderm
Microdermabrasion System