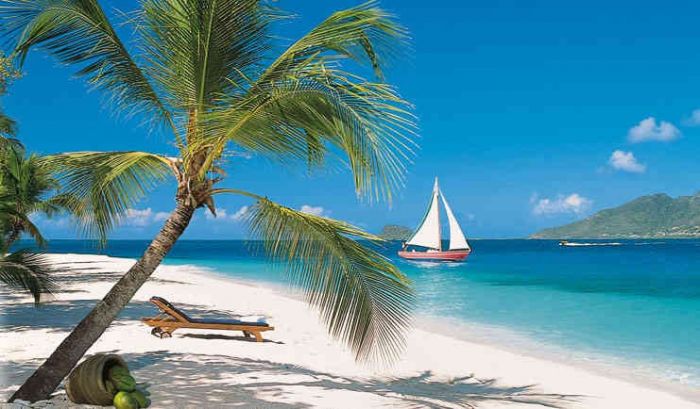 n/a
Five of the very best luxury Caribbean resorts
If you are looking for a luxury vacation which encompasses everything your dream-self could wish for - seclusion as well as dramatic surroundings, delicious food, snappy service, while still having a cultural experience - the Caribbean can grant it all.
Some resorts cost a pretty penny while others offer great off-season deals to beat competitors in the slower months. Here is what you need to know about the five best luxury vacations in the Caribbean.
CocoBay Resort, Antigua
Antigua is the epitome of a small Caribbean destination. Think boundless,white sandy beaches and calypso music and you have Antigua firmly in mind. CocoBay Resort sits at the top of a magnificent headland, offering never-ending ocean views. With West Indian charm, the traditional tinned-roof plantation houses set amongst a tropical landscape, Antiqua is elegance on a cliff.Are you dreaming yet? Well, wake up - this idyllic island resort has an affordable price tag.
CocoBay Resort is a romantic getaway. Children are catered for however, the club is not geared towards childrenís entertainment.
St Johnís is the the colorful town centre of Antigua and the Saturday morning market is a lively spot worth visiting.There are locals hawking birds, tropical fruits, flowers and handicrafts. Escape the main town and you will pass through lush tropical hills, thatched villages and banana plantations - the ultimate Caribbean experience.
Currency: Eastern Caribbean dollars (EC$). However, most hotels only deal in U.S dollars.
Language: English, so no need to brush up on the local lingo before you head off on your luxury vacation.
Almond Morgan Bay, St Lucia
Almond Morgan Bay Resort climbs out of the spectacular island of St Lucia. A sports and entertainment orientated hotel, there is plenty to do for the single traveler, couples or families. The resort is an all-inclusive culture (even watersports and nursery services are included).
St Lucia is an island rich in natural beauty. The seaside harbor town Castries is cradled in the crater of an extinct volcano. Castries has a rich and colorful street culture, hosting one of the most fascinating public markets in the West Indies.
With lush banana plantations, waterfalls, a lovely little fishing port Soufriere dominated by two volcanic hills Petit Piton and Gros Piton, St Lucia really is an island of visual feasts.
Currency: Eastern Caribbean dollar (EC$) however,most restaurants, hotels and shops will accept U.S dollars.
Language: English, although the locals do speak a French patios similar to that of Martinique.
Meridian Club, Pine Cay, Turks and Caicos
Turks and Caicos is regarded by many as one of the finest group of islands in the Caribbean. Meridian Club, Pine Cay is the perfect spot for a luxury retreat. There are no vehicles, televisions, radios or telephones. If you can stand being that tuned-out for a week or two, this is a complete hideaway heaven.
Children aged 12 or older are welcome, but mostly this is a resort for singles and couples.
Staying at the Meridian Club you get access to a bonefish wonderland, which for fishing-speak is fly-fishing nirvana.
Authentic local cuisine with roots in creole traditions means the food is top-notch Caribbean fare. The Club has such a loyal following; you literally have to book a year in advance. The Club Rooms feature tropical decor, screened porches and beautiful beachfront; two-miles of it, in fact. It is true tranquility. The only problem is you may find it hard to bounce back to reality after being so richly spoilt.
Beaches, Negril, Jamaica
Everyone knows Jamaica is special. Happy couples, families and single travelers can enjoy the all-inclusive offers at Jamaicaís small beach resort in Negril - Beaches - situated an hour outside of Montego Bay on Jamaicaís Seven Mile Beach. It is the epitome of Jamaican living, vibrant colors and ocean breezes infuse the hotel with an air of luxury and laissez faire.
†
A giant waterpark keeps the kids busy all day long, while adults happily laze about Jamaican style.
There really is no end to the beauty Jamaica has to offer - and things to do and see - well, you will just be wishing you had more time. Sit back, treat the locals with respect and you will endure politeness and old-world charm - and a charming vacation you will have.
If the Beaches Caribbean resorts take your fancy, there are fantastic deals to be had which you can find on their deals page.
†