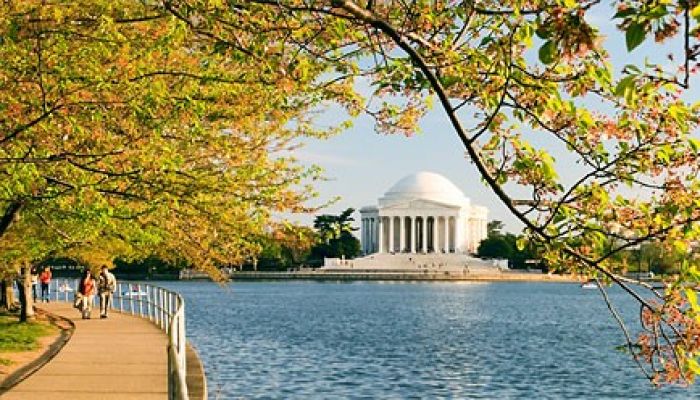 It may be home to the USA government but Washington DC has a lot more than politics to entice you in. From amazing art and culture to rich history and stunning landscapes, a warm welcome awaits you at one of America's most luxurious cities.

Washington is the capital of the USA and, of course, home to the White House, but what can often be thought of as a large, complicated city overshadowed by its political standing, is in fact an amazing destination for visitors from around the globe. The city's softer side holds a number of majestic squares and wide avenues housing inspiring museums, galleries and theatres, while just stepping a few miles out of the city centre opens up a wealth of great countryside and national parks just waiting to be explored.

Take a tour or two
Not just the fodder for school trips to Washington DC, the three houses of Government are a must for visitors. Choose either the U.S Capitol Building, the U.S. Supreme Court or the White House, or perhaps stop at all three to get an insight into the workings of today's Government as well as discovering some beautiful architecture, furnishings and ddcor. There are plenty of tours running throughout the day but it is best to book in advance to make sure you see exactly what you want to see.

Spend a day at the Smithsonian Institution where you can view national treasures spanning a range of subject areas from pieces of historic artwork to space exploration artifacts. There are a number of educational tours if you are travelling with children and you will also find details on the many other museums in the Washington area.

Washington is a great city to stop and catch a show, with a large variety of theatres to choose from. As well as the theatre, you can discover plenty of music and live art performances by getting tickets to the Kennedy Center. Whichever artist or show you decide to see, the centres position on the Potomac River and interesting design is worth a look just on its own.

Step out of the city
If you want to escape from the hustle and bustle head out to the historic waterfront of Georgetown where you'll find great shopping and wonderful places to eat and drink. Alternatively, just outside the city you can lose yourself in the stunning countryside   perfect for walking and hiking or heading off by bike or on horseback. Try the Great Falls Park just 14 miles away where you can go kayaking or try rock climbing.

Stay in luxury
Washington is a large city so there are plenty of accommodation options to suit all budgets, but elegance and luxury is at its best here. Treat yourself to an elegant hotel in the heart of the city, where the backdrop to your day is the White House or Washington Monument. The city is a big business area so you can expect rooms to be on a grand scale, with lively in house restaurants and bars and even the chance to relax and get pampered at the hotels spa. Whatever brings you to the capital, the warm welcome you'll receive will make you want to stay forever.

AUTHOR BIO
Tom Brown is a regular traveller to the U.S, promoting educational tours and breaks for children and young adults, including school trips to Washington DC. He writes regularly for a range of travel websites and blogs.