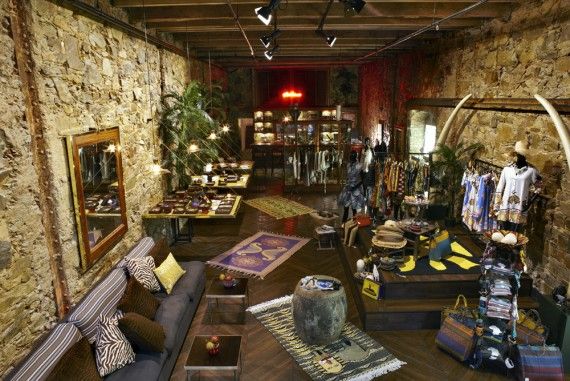 Merchants on Long
A Shopaholic's Heaven
I am just back from Cape Town where I came across possibly the best shop in Africa South of Tresor des Nomades (Mustapha Blaoui's Aladdin's Den in the backstreets of Marrakech,). A few weeks old, Merchants on Long is an impeccably curated salon-like store that reflects a very sharp eye as well as pertinent philosophy. The mix-match of items are universally sourced, designed or made in Africa (many with strong ethical principles) ranging from handbags to perfume, clothes, bikinis, jewellery, telephone-wire bowls, ceramics and far more besides, the provenance of goods reaching from Swaziland to Ethiopia.
The owner is Hanneli Rupert—a young, 20-something South African who is also daughter of Johann Rupert, CEO of luxury goods giant, Richemont (owner of Cartier and Dunhill, among others). Rupert tells me she is much inspired by concept stores like Dover Street Market in London's Mayfair—a four-floor emporium with something of a cult following for its mixed rails of fashion as well as its quirky taxidermy collection.
While Merchants on Long is more modest in size, it provides a stimulating tour of Africa's textiles, traditions as well as numerous community-focused, fair-trade initiatives.
Merchants on Long
The store occupies a moody, two-floor Art Nouveau building; inside the walls are studded with pistachio-backed glass boxes displaying Rupert's horn and leather 'Okapi' bags (this is her own label, named after the giraffe-like creature of Central Africa). One part of the store also morphs into a small stage where Rupert intends to host events along the lines of London's 'Intelligence Squared' debates.
The coffee shop at the back means you can drag along the non-shopper in the family leaving you free to buy all you can fit into your carry-on. To my mind, this is a very cool new address that competes at an international level.
On Wednesday 2nd May 2012, Merchants on Long are opening their very first pop-up store at the Blue Bird Cafe to give the fashinoista's of London the chance to get their hands on some of the finest ethical fashion.
At 34 Long Street, Cape Town. www.merchantsonlong.com