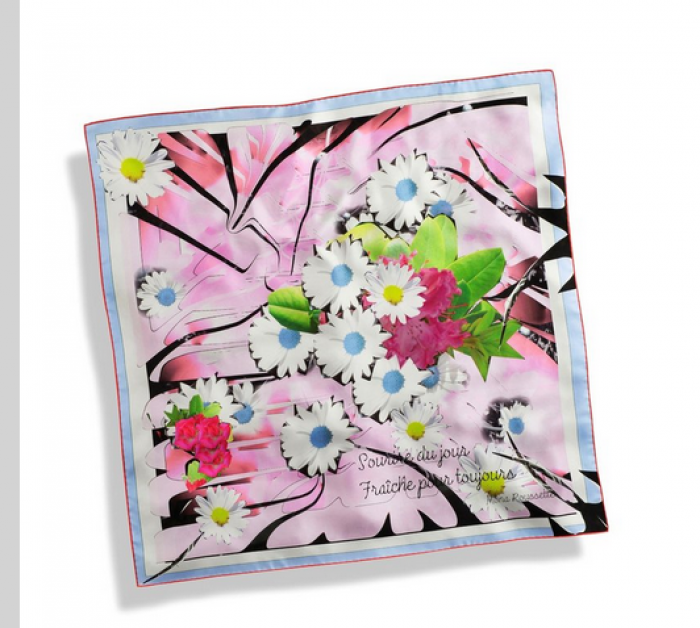 http://lecarreensoie.com/
With each scarf embodying its own unique, modern, and radiant design, French fashion accessory line Mona Roussette launches its collection in time for the summer 2013 season.
French brand, Mona Roussette presents its contemporary, fashionable scarves as original pieces of art for spring/summer for the first time in the United States.
By infusing the distinctive combination of art and design into each scarf, French-based artist and accessory designer, Mona Roussette wishes to make art accessible to everyone. Each luxury scarf showcases its own modern, colorful, and elegant design at an affordable price.  Designer Mona aims to make each scarf she creates original, allowing female consumers to see each piece as a one-of-a-kind piece of artwork. The spring/summer collection is available online now at lecarreensoie.com. 
"I find myself inspired by all sorts of artwork," says Mona. "I wish to make art accessible to all, so I chose a new material, less expensive than canvas and easier to transport all over the world - the scarf. Each scarf in the collection conveys something special, non-conventional, elegant, and smart, as well as brings our consumers joy and happiness."
With each scarf an original piece of artwork, the Mona Roussette spring/summer collection offers innovative pieces for today's style-conscious and modern woman. 
Pieces in the collection:
·      With a beautiful palette of greys, pinks, and reds, the "Appointment" scarf is perfect for a night out on the town
·      With its kaleidoscopic print, the "Beauty" scarf pairs perfectly for a day at the office or an after work event
·      The "Heart Sunny" scarf is stunning for the warmer months
·      With bright bursts of orange and yellow, the "Joy of Life" scarf is perfect for any occasion
·      Whether it is a day with the kids or a Saturday afternoon brunch, the subtle blue in the "This is Me" scarf can be worn with jeans or a dress
·      The "Smile Day" scarf can brighten up anyone's gloomiest day
·      The "Protected Garden" scarf can be worn with any ensemble
      Keeping the budget-conscious, modern, and polished woman in mind, the summer 2013 collection prices are set at $250.00 and feature seven brilliantly unique, high-quality designs.
About Mona Roussette
Based in France, Mona Roussette is an eponymous brand that was founded in August 2012 by artist and designer Mona Roussette. The designer dedicates all of her time and energy to textile design and wishes to make art accessible to all. Mona Roussette designs are for to people of every generation. Like us on Facebook, join the conversation on Twitter, and follow us on Pinterest. To see the entire collection, please visit lecarreensoie.com. 
http://lecarreensoie.com/
Joy of Life