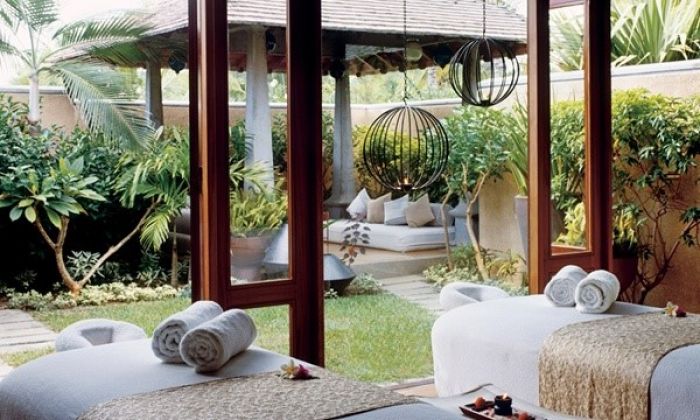 http://www.pinterest.com/pin/
Planning your special day is an important task for all couples and so is your honeymoon. You want to make sure you can embrace a destination that will have it all – luxury, atmosphere, romance and stunning views. We have created the perfect list of the most luxurious destinations that will definitely wow you and your spouse.
Hilton Bora Bora Nui Resort
Are you looking for a place that is located away from the everyday stresses? If 'Yes' is the answer then Bora Bora Nui Resort will be perfect place for you to have a peaceful honeymoon. The resort is located within the French Polynesia islands and is home to turquoise waters and limitless blue skies. And if that wasn't enough, this luxurious honeymoon destination is located in a sacred cove of white sand and majestic lava rock. What can be more romantic than this?
The Nui Resort provides an array of activities from snorkelling, to boat trips to the private nearby island of Motu Tapu. Here you can have a picnic away from everyone and spend time taking in breath-taking views of the mountains and the turquoise surroundings.
The resort has 120 villas and suites on offer and a nested beach with picturesque gardens. Each room is equipped with a king canopy, marble bathroom and overlooks the lagoon. This destination is the ideal romantic place to bring you closer together and start your new life with your spouse.
Sandy Lane Barbados
Sandy Lane Barbados might arguably be the Caribbean's most famous hotel, offering luxury and glamour. The hotel is located just south of Holetown, backing on to a gorgeous arc of golden sand. Sandy Lane's beach is effectively a private beach offering exclusive one to one time with your loved one.
This is the perfect destination for couples seeking a romantic retreat and to enjoy a luxury holiday. There are a wide range of recreational facilities, including some of the finest golf courses in the Caribbean.
At Sandy Lane they pull out all the stops, making your honeymoon extra special and unforgettable. As newlyweds you will receive pampering and be truly cared for. You can expect a candle lit dinner with a view of the gorgeous Caribbean Sea. Embrace the experience and make your honeymoon unforgettable!
Sun Rocks Hotel, Santorini
Sun Rocks Hotel in Santorini, Greece, is the ultimate complete fusion of contemporary luxury and understated elegance. The hotel itself is carved into the volcanic cliff ensuring gorgeous and breath-taking views.
With only 17 rooms available; all rooms are designed to provide all their guests with a unique experience. The cave style rooms all have terraces overlooking the Aegean Sea. There are Double Rooms, Junior Suites, Experience Suites, Sun Rocks Hotel Suites and Sun Rocks Hotel Honeymoon Suites available for those couples that want the complete luxury experience.
Whichever suite you want to choose, you are sure to receive complete privacy, serenity and luxury in whatever you choose to do. This is a couple's only resort, ensuring you get a chance to mingle with like-minded people.
There are two restaurants available for the guests of this hotel, providing high class modern Mediterranean cuisine. Local activities include scuba diving in the volcano and organised wine tasting sessions. 
For couples looking to get married – Sun Rocks Hotel has achieved a leading reputation in offering exceptional and individualised wedding services so you are sure to have a great stay.
Maradiva Villa Resort and Spa
Maradiva Villas Resort and Spa offers its guest exclusivity and privacy with the use of their five-star resort and private villas. The destination has Indian heritage, which includes an award-winning holistic spa, haute cuisine and a private pool in the grounds of every villa. The destination and villa offers luxury, elegance and impeccable service.
Maradiva Villa Resort and Spa is the perfect love nest that will bring you and your new wife/husband closer together. If you are looking at getting married abroad then this is the resort for you.  Everything will be taken care of from the planning stages to making sure the bride can relax and unwind before the big day.
The resort owns 27 hectares of beautiful and breath-taking gardens that make the destination even more perfect for your special day. This will provide a great backdrop for your wedding photographs.
When it comes to cuisine then you are sure to enjoy international, Mauritian and Mediterranean cuisine. You can enjoy the beachside restaurant and appreciate the ocean views, sunset and enjoy the relaxing atmosphere.
Banyan Tree Koh Samui
The Banyan Tree Koh Samui is a gorgeous destination set within Lamai Bay, situated in Thailand. The Banyan Tree Koh Samui offers luxurious facilities and accommodation like no other.
One of the great things about this destination is the fact that by choosing to stay here you will get allocated an all-pool villa that will be like your own home for the duration of your stay. Each villa has a separate living room, large terrace and a private pool. What else can you ask for? This is the ultimate destination for couples seeking romance.
There are 88 villas available for the guests which are located within lush forest greenery. The Banyan Tree Koh Samui is a real heaven offering gorgeous views with sapphire waters and white beaches. This is the ultimate destination combining pampering, tranquillity and seclusion – allowing you to enjoy privacy and peace and quiet.
When deciding on the perfect honeymoon destination, don't hold back! Make sure you get yourself a great hotel or resort that will allow you enjoying your honeymoon fully.  Treat yourself to a piece of luxury, this is the once in a lifetime moment so make sure you have great memories you will cherish forever.
http://www.pinterest.com/pin/
Sun Rocks Hotel Santorini
http://www.pinterest.com/pin/
Banyan Tree Koh Samui
http://www.pinterest.com/pin/2
Hilton Bora Bora Nui Resort
http://www.pinterest.com/pin/
Sandy Lane Barbados