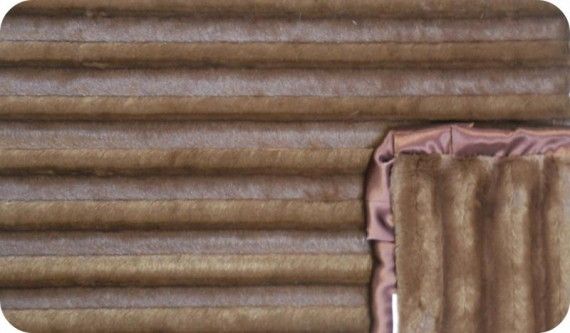 minky couture
This blanket is luxury, I received one of the tween size blankets and I love it. When I get home from a hard day of taking care of people. This blanket takes care of me.
Bringing up 8.5 mil. results in google, "minky" (or "minkee") has taken the world by storm. The fabric that was originally used to welcome babies into the world now wraps around adults, drapes across leather sofas, and comforts college freshmen.

With two spellings and thousands of fans, minky fabric finds itself in a world above all other fabrics. In terms of comfort, it triumphs over fleece with its thick, plush feel that provides unparalleled warmth. It climbs the charts in durability as its colors do not fade like many cotton fabrics. This fabric is being talked about for a reason. It is warm, durable and comes in a large variety of patterns and colors. Dotted minky fabric creates beautiful baby blankets, patterned minky fabric makes fun pajama pants, and solid minky fabric works perfectly for the backing of a minky quilt.

After first being used to make soft, cuddly baby blankets, minky fabric was used to make small stuffed animals, pillows, diaper covers, baby clothes, booties, car seat covers, shopping cart seat covers, bibs, burp clothes, and changing pad covers. At the same time that manufacturers were creating everything they could think of to warm and comfort babies, others took a look at bringing the warmth and comfort of minky fabric to children, teenagers and adults. Among these is Minky Couture.

Minky Couture is proud to provide all ages with the luxurious fabric that was once enjoyed only by little fingers. Monster, adult, tween, infant and mini sized blankets allow everyone to relax with a blanket their size. Minky Couture caters its blankets to the customer's age and style. Customers simply choose their size and design to create a blanket that is perfect just for them.

Besides warming customers with a customized blanket, Minky Couture also gives customers a new way to decorate. Minky Couture has provided customers with several blanket patterns and designs that can serve as elegant additions to any living room, bedroom, or bathroom. Draping a custom blanket over a dresser, a chair, a piano, or a couch brings color and life to any room.

Whether you spell it minky or minkee, minky blankets are relaxing people of all ages and decorating rooms of all sizes. Because of the high quality fabric that minky is and the warmth and comfort that it provides, Minky Couture has selected it as the only solution to blanket creation. Click here to browse their large selection of plush minky blankets.