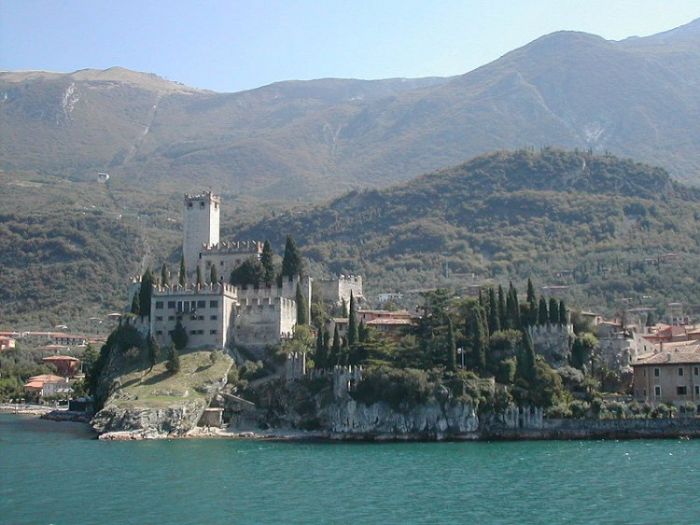 Wikicommons
Known for its stunning scenery and tranquil atmosphere, the area surrounding Italy's largest lake is one of the most beautiful in Europe. And, with more than thirty miles of beaches, historic Venetian castles, medieval villages and an abundance of activities to suit all ages, it's the ideal place to escape the daily grind. Check out our guide to the best of what Lake Garda has to offer and relax and unwind in true Italian luxury.
Swim in Lake Garda
We don't mean to state the obvious, but taking a dip in Italy's largest lake is a real must! Much better than sharing your water with other holidaymakers in the all-inclusive pools, it'll be easy to find a spot to yourself as the distance around the lake is a huge 158km! What could be better than cooling off in the lake as the Italian sun beams down on your back?
Visit Malcesine
Located on the eastern shore of the lake, the commune of Malcesine boasts a wonderful historic centre with tiny streets, a small harbour and a wonderful medieval castle. You can also take a cable car to Monte Baldo, which is known as the Garden of Europe for its beautiful botanical gardens and hiking paths as well as some truly incredible views.
Enjoy the Great Outdoors
You won't want to spend a moment indoors after taking in some of the area's natural beauty, but just in case you needed any more excuse to get into the Great Outdoors, there are plenty of outdoor sports and activities on offer around Lake Garda. Some of the favourites include boating, fishing, hiking, windsurfing and mountain biking.
Bardolino
It won't come as any surprise that an area as beautiful as Lake Garda offers some of Europe's best spa breaks. After a spell in the Great Outdoors, relax and unwind in the thermal baths and treat yourself to some pampering at the wellness and beauty centre of the Hotel Caesius Thermæ & Spa Resort.
Day Trip to Verona
Famous for being the setting to Shakespeare's famous plays, Two Gentlemen of Verona and Romeo and Juliet, Verona is renowned as being a city of romance. As well as an abundance of magnificent churches and beautiful Renaissance buildings, the city also houses a number of fascinating Roman ruins including its large amphitheatre which was built in the first century. The third largest building of its type and the best preserved, the amphitheatre could once host 15,000 spectators and was used for gladiatorial fights as well as jousting events and plays in the Middle Ages. For the last hundred years, it has also been the world's largest operatic theatre.
Museo Civico
If you're in need of a dose of culture, the Museuo Civico is a great choice for a number of reasons. Housed inside a waterfront castle, Rocca di Riva, which dates all the way back to the twelfth century, this fascinating museum contains plenty of local history exhibits including a 13thcentury square tower topped with an angel-shaped weather vane, and a 34m-tall tower which offers a stunning panoramic view of the lakes and mountains.
Wikicommons
Lake Garda in all it's glory