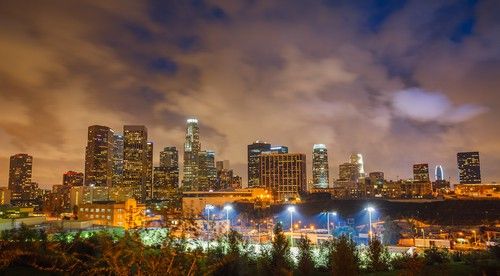 Shutterstock
The importance of a great date should never be underestimated, and with Valentine's Day fast approaching, it's time to start planning something special. There are endless things to do in LA, and an overwhelming choice of great restaurants, but for those who want to really mark a special occasion and go the extra mile, it's going to take more than just dinner and a movie.
A Valentine's Day date should be memorable, different, romantic, and conducive to great conversation – after all, you can't exactly enjoy witty repartee at the movies. The idea is to really impress, to show your date that you have put some thought into the occasion, and that you have made a special effort just for them. It doesn't matter whether it's your 5thdate, your 15th, or a date with your spouse – a really good Valentine's date should feel like just a first date.
Luxury Date Ideas Around Los Angeles
· Sushi is the ideal choice for a luxurious dinner date. It is elegant, light, and beautiful - but most importantly it is bite-sized and can come in many small courses, meaning it is the perfect accompaniment to great conversation. Urasawa in Beverly Hills is the pinnacle of Japanese dining, and the average bill of $1,111 is reflected in the incredibly beautiful presentation, the finest ingredients used, and the delicately balanced flavours. With a maximum capacity of 10 diners, you will be assured an intimate and memorable evening.
· Woo your date on the water with a luxury yacht charter. Choose a bay along the gorgeous Southern Californian coastline as an incredibly romantic backdrop for dinner on-board your luxury charter. Sailing along the coast, you can sip champagne, watch the sun set, and enjoy a gourmet meal prepared by a top chef on board. There is always the option to charter the yacht overnight, so that your date can become a mini maritime getaway.
· For wine lovers in LA, this might just be the perfect date. Take a helicopter flight over the heart of California wine country. Your pilot will take you for a romantic, scenic flight over Temecula's famous sun drenched vineyards. After half an hour you will stop at one of the region's most prestigious wineries where you can do some wine tasting, enjoy a champagne jazz concert, or melt away with a relaxing massage before flying back to Long Beach Airport. This wining, dining and high flying date is guaranteed to seriously impress your date.
· For those who are not so taken with wine, but love the idea of a helicopter 'flightseeing' tour, charter a helicopter to take you and your date to the Wildlife Waystation in the Los Angeles National Forest. Enjoy an excellent meal at the wildlife park and wander around the reserve viewing the beautiful animals living at the non-profit sanctuary. You will be able to get up close and personal with the world's most exotic animalsCompletely unique and exciting, this $7,400 LA date will have animal-lovers grinning from ear to ear.
· There's nothing quite as magical or beautiful as a hot air balloon flight, and there could not be a more romantic LA date than floating over the city with someone special. For an extra touch of luxury, organize to have some bubbly during the balloon flight, and a luxury picnic for afterwards. A simple but carefully selected picnic of epicurean delights is the perfect accompaniment to a dreamy LA hot air balloon flight. Include high quality sliced meats, cheeses, smoked salmon, caviar, lobster, Belgian chocolates, and a little more champagne. Simple romance at its finest.
Los Angeles Photo courtesty of Shutterstock