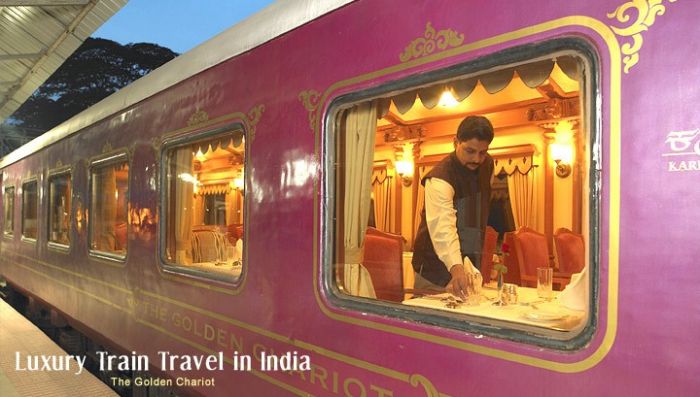 People find trains are the best comfortable vehicle that gives their journey a new life especially in India where the 1 million people are living. You can easily communicate from one destination to another by it. Even today it has become a best tourist options in India. India is a lovely nation with century old amazing culture and tradition. Millions of tourists visit India to see the beauty of here and for them luxury trains of India is no less than wonders. These trains are run to explore the some of the goodies of India while covering different destinations. They are just a marvelous invention of Human beings and looks like a palace. Indian luxury Trains includes:
       
Palace on wheel- The train takes you an excursion of royalties in Rajasthan. It run for a week and covers various destination like Agra, Jaisalmer, Jodhpur, Sawai Madhopur, Udaipur and Bharatpur. Tour completed by this wonderful dragon is 7 nights /8 days.
       
Maharaja Express- The train connects three major or beautiful cities of India by its strategically made itinerary of 4days/3nights. Being an important guest of this beautiful dragon, it serves you all the charms of Delhi, Jaipur, and Agra to rejoice your moment along with stunning facilities and services.
       
The Deccan Odyssey- This train will give you an experience of erstwhile era of Marathas. Places which are covered by this wonderful train are Mumbai, Goa, Kolhapur, Chandrapur, Ajanta Caves, Nashik, Daulatabad, and sindhudurg and etc. Board this train to make your journey best and rejuvenated.
       
The Indian Maharaja train- The train advent its journey to the most wonderful spots in India like Mumbai, Jaipur, Sawai Madhopur, Bharatpur, Agra, Fathehpur Sikri, Aurangabad and Udaipur. You tour will be completed in 7days/8nights and offer you beautiful memories to rejoice your sojourn.
       
Royal Rajasthan on wheels- Royal Rajasthan on wheels allows their guest to experience the magnificent history of Rajasthan while enjoying the luxury. Right from the historical heritages to colorful markets, Rajasthan has many places to visit. The list of destination that has been kept in its itinerary is Agra, Delhi, Jodhpur, Udaipur, Varanasi, Jaipur and Khajhuraho. It also takes 7nights/8days to complete its journey.
       
Golden Chariot Train- The train starts its journey every Monday and end up its journey after completing 7 nights and 8 days itinerary. Destinations that you will see during its journey are Bangalore-Mysore, Hampi, Belur, Kabini, Badami and Goa.