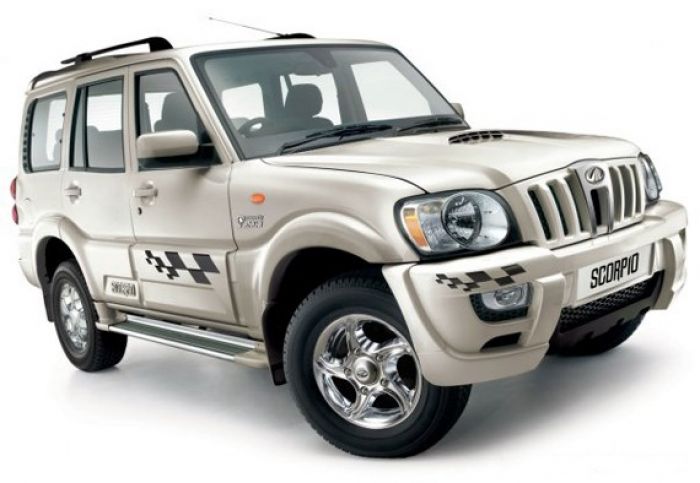 http://www.carversation.com/
Mahindra & Mahindra Ltd group worth over six billion dollars is one of the most trusted car manufacturers in the world. Produced at Nasik plant, India by M&M Ltd group, this SUV has gained a reputation for style, good mileage and user friendly features. Probably, Scorpio is the only successful vehicle in the world produced by its suppliers entirely. The widespread acceptance of Mahindra Scorpio has taken Mahindra & Mahindra group from being a Jeep assembler to one of the most recognized brands in the country's automobile markets. In fact, it is this grand success that has prompted marketers to mass produce this SUV for global market, making its appearances in more than 15 countries. 
ENGINE
Mahindra Scorpio since its first production has been upgraded and reproduced with fresher looks and specifications. Their first generations were equipped with either 2.1L petrol or 2.6L turbo diesel engines. Both of them have a 5 speed manual and a 6 speed automatic transmission that allows it to generate more than 115hp. 
The refreshed versions are equipped with m-Hawk CRDe engine, power steering, top mounted intercooler, 4 stroke, turbo charged, DI and a common rail diesel engine. It has a cubic capacity of 2179 cc and its maximum gross power is 120 bhp (86.7 kW) @ 400 rpm with the maximum torque power of 290 Nm @ 1800 – 2800 rpm. Mahindra Scorpio has a five speed manual transmission and a 6 speed automatic speed transmission. Its front suspensions are 2WD independent, coil spring and anti-roll bar and 4WD is also independent with a torsion bar while the rear suspensions are multilink with coiled springs. It has got a staggering fuel tank with 60 ltrs capacity.
INTERIOR
Scorpio is not only about its engine but a lot in its style too. Fitted with swivel interior lamp, it has mind boggling sensors that can detect rain and turn on your wipers automatically and also sets the speed according to the density of the rain, it also has stylish dials with air pressure indicators. Another modern feature is its rear view mirror which is known as intellipark, which helps you to judge the distance; parking it is just a child's play. It also switches on your headlamps in times when you pass through dark tunnels. It has fully fabricated seats with middle row sliding seats (only in 8 seaters), centre armrests on second row seats and individual armrests on first rows, mobile charging outlet for the front and middle rows. It is also equipped with AC with rear vents and heating and venting capabilities. Other features such as tiltable steering and shortcut buttons mounted on the steering wheel with options such as cruise control and audio controls. Mahindra has also equipped Scorpio with impressive safety measures like collapsible steering columns and side intrusion beams, crash protection crumple zone and child locks, fire retardant upholstery.  
EXTERIOR
Mahindra Scorpio has a masculine look on its exterior with illuminated spoiler, air dams and mud flaps. Side steps, functional sporty bonnet scoop, alloy wheels, sporty decal, cladding, great ground clearance, firm door knobs and comes with a roof top ski racks. Perfected with fine lines and classy exterior detailing, this car is all set to give you the ride of a life time.