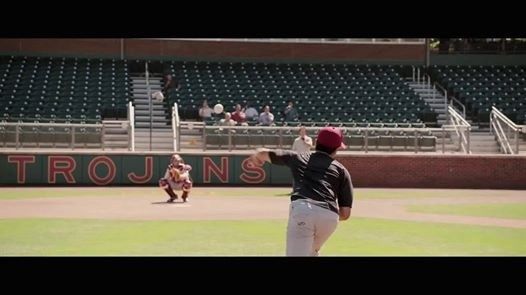 Photos Courtesy of Disney
Can you throw a strike at 100 mph to win $1 million? All it takes is a great arm, good luck, and a "Field of Dreams"-level miracle to become the winning pitcher in Disney's once-in-a-lifetime contest for the inspiring new sports film "Million Dollar Arm."

Disney is giving baseball fans a chance to make their big league dreams come true by competing for a $1 million prize. In three regional qualifying rounds April 25-26, contestants will throw three pitches, each tracked by a radar gun, in an attempt to throw the fastest pitch. And you really can't fail because all participants will receive two tickets to see an advance screening of Disney's "Million Dollar Arm" at an AMC Theatres location later that evening.

Based on a true story, "Million Dollar Arm" is an inspiring film about a sports agent (played by award-winning "Mad Men" star Jon Hamm) who concocts a scheme to find baseball's next great pitching ace among cricket players in India – who have never before played America's pastime. So it's fitting that the million dollar contest is open to all amateur pitchers -- male or female, who are legal United States residents at least 18 years old. Qualifying hopefuls are invited to compete in one of the qualifying rounds on April 25 and 26 at Walt Disney World Resort in Florida, April 25 and 26 at Disneyland Resort in California, or April 26 during Tribeca/ESPN Sports Day at the Tribeca Family Festival in New York City.

The top three eligible pitchers with the fastest pitches from each qualifying round location become finalists. On May 6 they'll be flown to Hollywood, California, as VIP guests of the "Million Dollar Arm" world premiere. The gala will also feature the big showdown where finalists compete for the $1 million prize. In the final contest, each eligible finalist will have three pitches with the goal of throwing one 100 mph strike to become a potential winner of the $1 million grand prize.

As an added thrill, the VIP audience will include the film's stars, including Jon Hamm, Lake Bell, Alan Arkin, Bill Paxton Madhur Mittal from "Slumdog Millionaire," and Suraj Sharma from "Life of Pi," plus other celebrities, filmmakers, major league players, coaches and scouts. Win or lose, all nine finalists will receive a $500 gift package from Rawlings, a $250 gift certificate from Under Armour, and tickets to the ESPY Awards. They'll also get to meet the real JB Bernstein who will be present to offer the fastest pitcher a contract with his management company, Seven Figures Management.

Just to add to the pressure, competitors will be pitching along with two special guests: Tom "Flash" Gordon, the three-time MLB All Star, and World Series Champion; and Nikola Vucevic, the seven-foot center for the Orlando Magic who was a first round draft pick from USC. By the way, Vucevic means business – he'll actually enter the contest to pitch for the big prize. Details and official rules are available at disney.com/PitchingContest.
'Million Dollar Arm' star Jon Hamm
World Premiere is in Hollywood May 6