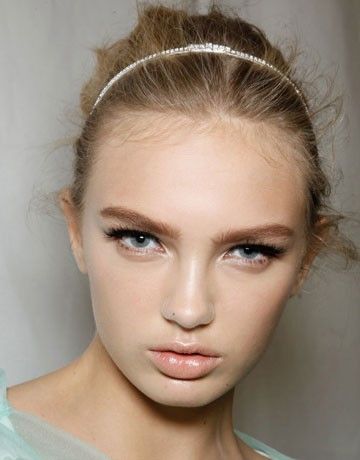 harpers bazaar
Makeup Bag Must-Haves
Whether you wear a lot of makeup or just a little, it can be easy to accumulate products. Many even carry makeup bags in their purses for touch ups. Unfortunately, having too much makeup can lead to overstuffed handbags. Check out these makeup bag must-haves to ensure that your hobo bag is carrying only the essentials.

Primer
Primer creates a smooth canvas for your foundation, allowing for smooth application and long-lasting wear. Be sure to choose a primer that is ideal for your skin type. (Think dry vs. oily)

Foundation
While foundation is essential, it can also be a pain to pick out. Finding one that looks natural and is appropriate for your skin type and color can be a frustrating process. Once you find "the one," get rid of the others that didn't work.

Concealer
If you don't wear a lot of makeup, concealer is a great way to quickly add coverage to unwanted blemishes and dark circles. Typically in the shape of a stick, concealer is easily stored in your makeup bag without taking up too much room.

Blush
Blush is a great way to add a little color to your face, whether applied over foundation or worn alone. Blush is available in a variety of shades to match your skintone or desired look.

Eye shadow
This is where your makeup bag can get cluttered. With literally thousands of colors available, "collecting" eye shadow can be enticing. Choose the shadows you wear most often for your makeup bag and store the others elsewhere.

Mascara
Whether you wear a full face of makeup, or a little here and there, mascara is an essential. Opt for a lengthening or volumizing formula and you can't go wrong.

Lip gloss
Lip gloss is a great way to add a little color and shine for a polished look. For a more more dramatic look, choose a lipstick. Want something more natural? Go with a tinted lip balm.

Brushes
You can't apply makeup without brushes! Have brushes in various sizes on hand. Depending on the types of makeup you use, the types of brushes you require will vary. Just be sure to wash them regularly!

Have items you haven't used in years? Toss them! Be sure to store your makeup in a cool, dry place, away from sunlight, and be aware that makeup does expire. If an item becomes discolored or smells funny, get rid of it and go shopping for new!

Author Bio: When I'm not accessorizing with purses and handbags in my fabulous day job, I'm writing my fashion blog, settling into newlywed life, and loving on my precious puppy, Luna. Health and beauty have always been an interest of mine, and I enjoy discussing tips with others who appreciate it too!