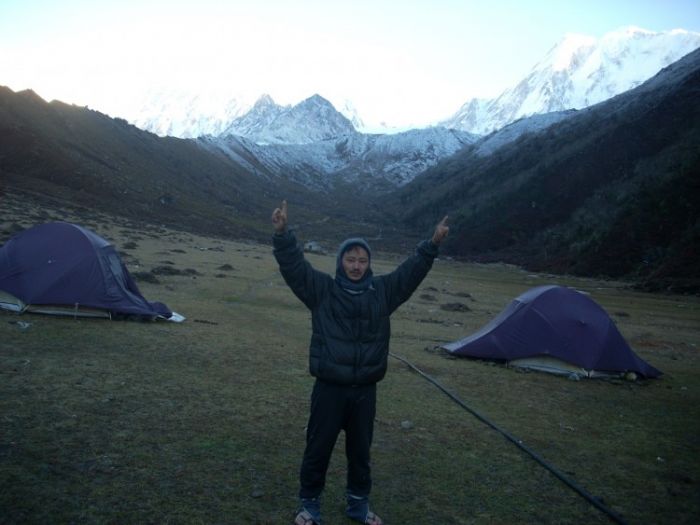 manaslu camping trek
The Manaslu Trekking offers a perfect combination of rich culture heritage, unsurpassed Himalayan beauty, and a rich mountain biological diversity. Manaslu Larkya La pass trekking is adventure trek and require a good experience of trekking and a good physical condition. The trek ascends follow Buri Gandaki River to Larkya La Pass 5113m with attractive views of Himalchuli (7893m.), Manaslu 8163m, Ganesh Himal, Ngadi Chuli (7879m.) or (peak 29) and other mountains, beautiful varied landscape and different flora and fauna.
Mt. Manaslu is located east of the Annapurna range. We can extend this trek with Tsun Valley trek. Manaslu's incomparable beauty and rich blend of Tibetan and Nepalese culture offer a true adventure for visitors to Nepal. Here you will find the mountains and valleys covered with diverse and pristine eco-systems. Fantastic Mountain views, rich culture. This part of trekking area is known as part of really Nepalese life style and their way of living. It becomes attraction these days for the trekkers. Many trekkers would like to trek this part. These days, tea house has been building. You can do camping trek as well as tea house trek . If you do tea house trekking, there is simple accommodation and foods are Nepalese dishes.
http://www.himalayatrip.com/manaslu_trekking.php
http://www.himalayatrip.com/tsum_valley_via_manaslu_larkya_pass_trekking.php
http://www.himalayatrip.com/rupinala_pass_trekking.php