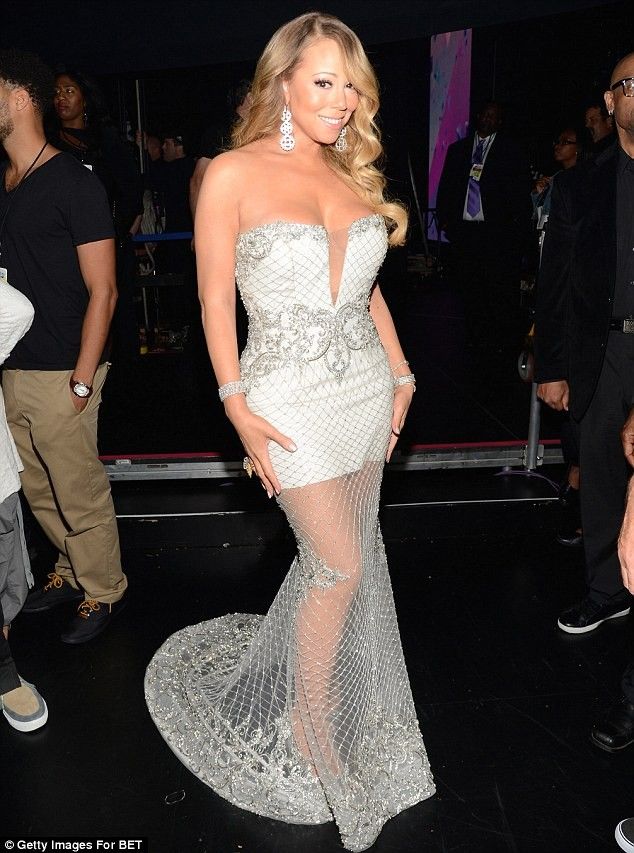 Getty Images
Cinderella is a lofty goal for haute couture to aspire towards, but Mariah Carey's BET Awards gown certainly evoked memories of the childhood tail. Glittering and glamorous, the white and lacy gown was almost magical and fit the curvaceous singer like only a wand-made dress could. Mariah wore the dress well, and looked good doing it. It's a shame, then, that she'll only be remembered for the scandal.


She was accused on Twitter for lip-syncing during a performance on American Idol earlier this year in May.
And now Mariah Carey has been blasted for the same offense at the 2013 BET Awards in Los Angeles on Sunday night.
The 43-year-old songstress took to the stage to perform her new song Beautiful alongside singer Miguel and rapper Young Jeezy.

And her pitch perfect performance immediately drew criticism on the social networking site.
@beachsax11 said: 'Jeezy so shady. Talkin bout RIP to mariah Carey vocals. Died in the 90s. All that lip synching. I'm so disappointed.' (Read More)