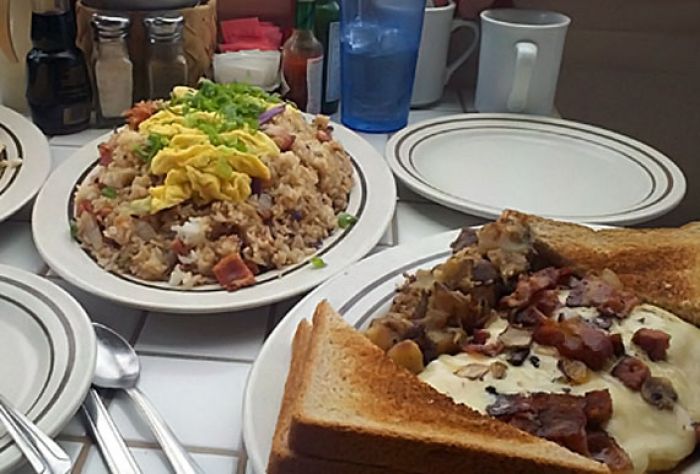 It sounds crazy to wait in line for 1 to 1.5 hours for breakfast, doesn't it?  What if I told you that it would be worth it?  Admittedly, I am not the most patient person, and I find it frustrating to wait in a long line for a meal when I'm hungry. Yet, even I've (willingly) stood in line for hours at the little Gazebo Restaurant in Napili, Maui to savor their mouth-watering breakfast items. 
The Gazebo is literally a tiny gazebo that was turned into a restaurant with limited seating and an extensive line.  Don't let that deter you.  If you like to eat and appreciate a tasty, hearty breakfast, this place is for you.  The Gazebo's breakfast specialties are the best of the best.  Even though standing in line and waiting for 1 to 1.5 hours on Maui for breakfast doesn't sound lavish, you can always glam it up by wearing your new designer shades and flowy sundress.    
Here is a list of my Gazebo Maui breakfast favorites (also referred to as my "Gazebo trio" or my "breakfast besties"):
White chocolate chip macadamia nut pancakes:
3 huge, fluffy pancakes loaded with chopped, roasted macadamia nuts, white chocolate chips, and smothered in a sweet, buttery, whipped topping that can only be compared to ambrosia, the nectar of the gods. The best pancakes I've ever had. And I've eaten a ton of pancakes in my life (did I just admit that?). $9.25. 
Breakfast fried rice plate:
An enormous plate stacked high with tasty fried white rice, meat (Portuguese sausage and bacon), veggies (purple cabbage, carrots, yellow onion and green onion) and scrambled eggs. I know it seems odd to eat fried rice for breakfast, but trust me, you will not be disappointed. $11.25
"Big Kahuna" omelet:
Bacon, Portuguese sausage, mushrooms, onions and avocado wrapped in a fluffy egg blanket and smothered in pepper jack cheese. Comes with a side of country potatoes (or rice) and toast. Simply a taste of heaven. $11.25
The "Gazebo trio" is easily enough food to share between 3 to 4 people. Even then, you will probably leave the restaurant stuffed beyond belief. You can get the entire trio for less than $35, and that is very little bux for lots of lux… breakfast food, that is. Gazebo Maui serves breakfast daily from 7:30am to 2:00pm. (808) 669-5621.