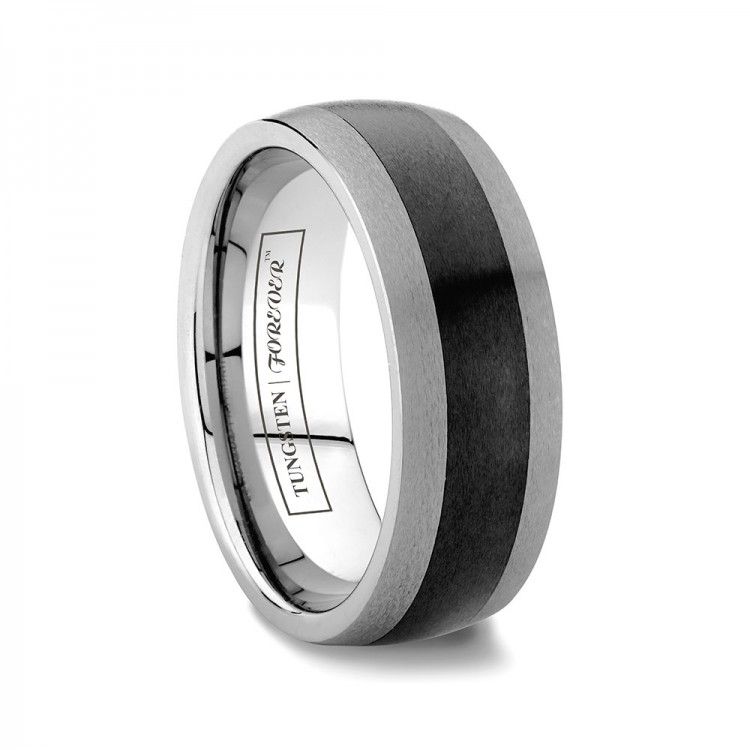 tungstenworld.com
Men can wear bling as well as the ladies, when they do it right. It's difficult to know when you're wearing just enough and when you've overdone it.

That doesn't mean wearing jewelry has to be avoided altogether. Men's jewelry has always been a sign of high fashion and sophistication for those who can pull it off. Men's Jewelry is a growing trend but if you're afraid of seeming too metrosexual, follow these suggestions and feel secure in your manly sense of style.

Rings


This is a great place to start with jewelry. A stylish band worn on the right ring finger makes a notable statement and demonstrates that you're confident in your fashion. If you're concerned that a ring might resemble a wedding band, choose a Tungsten World solid black tungsten band that's either flat or domed.

When you're specifically looking for a unique wedding band, there are a variety of tungsten and inlaid rings that step outside the traditional plain metal bands they even carry wooden rings that would definitely serve as a conversation piece. The selection of masculine rings is vast and varied so you're certain to find one you're comfortable wearing.

Watches

Glancing at your wristwatch to check the time is infinitely more attractive than pulling your phone out of a pocket. Chances are that the moment you touch your phone you're tempted to check not just the hour, but recent emails, weather updates and how your friends are doing. Don't be "that guy." Opt instead for a stylish watch. Here a few options to make a statement:

• Tungsten - A growing trend in men's jewelry is the use of tungsten carbide. A sleek watch featuring this nearly indestructible material on the band and face is a symbol of strength and style and certain to draw the right kind of attention.

• Leather - The soft glean of a leather band, whether cow or alligator, is both timeless and a little bit rugged. A wristwatch featuring a leather band and stunning, Mother of Pearl dial catches not only the light but also the interest of the ladies.

• Strap - Not all flexible watch bands are leather. A thick, steel mesh strap is bold and industrial and dresses up even the simplest watch face.

• Cuff - This style of watch has a band that only goes around the wrist partially. It doesn't fasten shut like a traditional band and is idea if you hate wrestling with watch clasps. Wide leather is a popular band option for this open bracelet-style watch.

Bracelets

Once you're a master of wristwatch style, wearing a bracelet is the next natural step. The best way to make a bracelet work is to wear it on the opposite wrist of your watch. Otherwise you're wandering into unsafe territory. Choose a steel bracelet with a slick steel finish in blue or black. You can also select a bracelet that coordinates with the watch being worn, don't mix different metals or styles. A bracelet that coordinates with what your wearing, subtly picking up the color of your shirt is also a good choice.

Necklaces

There's no mistaking the toughness of wearing dog tags and in today's trends, they're now stylish pendants. The have the familiar shape of a dog tags but are sleek and lacking engraving. In men's necklaces there are numerous other manly pendant choices such as the classic shark tooth, an anchor or something with native influences. If pendants aren't your style, choose a thick, chain necklace that lays close to your neck and won't be mistaken for being over-excessive.

The most important thing to remember when selecting jewelry is to wear what you're comfortable with. Experiment with a few different pieces until you find the look you desire. Remember the type of attention you want. If you're ever in doubt, ask the opinion of a friend whom you know will only hang with you when you look at your sharpest.