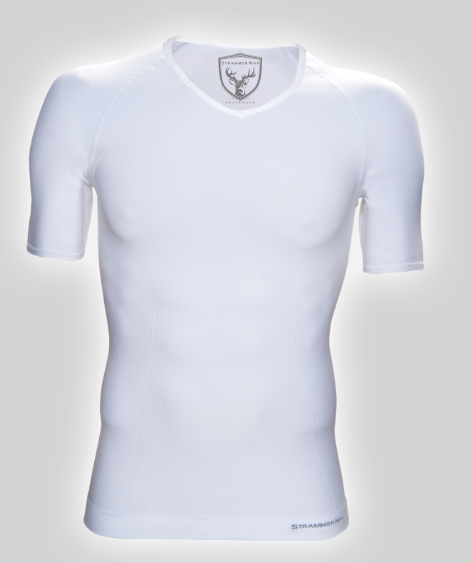 110
Gone are the days when remaining in shape was just a women's problem. Modern men are equally under the pressure to maintain a good shape of their body. Looking great is everyone's desire and most of us are always looking at easiest ways to look good with minimum efforts. Many products in the market promise you a perfect shape of the body. However, experience says not all of them are reliable.
One trusted product comes in name of Strammer Max. The product has fast become one of the best in category of men's Shapeware product. Strammer Max made it possible for men to emphasize the contours of the body and hiding the problem areas in order to provide your body with great looks. This is a German product, which combines both high tech material and innovative design to make it comfortable, yet effective men's shapeware product in the market.
Strammer Max - Men's Premium Shapewear is designed in such a manner that their fitting cuts are close to the body. This way they help in stimulating the circulation, promoting fat loss along with supporting a posture, which is powerful. The material of the product is of premium quality. The yarn used is very high in quality and the product is breathable with a cooling effect after it's worn. Once you wear it you will yourself feel fitter and great.
While designing these sharewares, the designers have used certain technical know how to make these products emphasize your shape nicely. For this, a special structure has been given at the back that helps in providing you a straight posture by giving support to shoulder and your torso. This design not only help you shape up your back zone but avoid back problems as well.
In front, a compression zone has been created which helps in emphasizing your front masculine contours. This helps in shaping your stomach and chest giving it stimulation in cells and helps in burning fat as well.
If a slim waistline is what you desire the Strammer Max - Men's Premium Shapeware are the best. This design gives you stimulation in circulation of oxygen and blood in the body thereby helping you release more energy and perform better.
As stated earlier, the product is breathable and this helps you remain cool all the time. In addition to that, the antibacterial nature of the fabric keeps away the body odor even after an intense workout.
The design of the product is such that it helps you have freedom of movement. This is because the shoulders are seamless that avoids pressure at arms.
The material of Strammer Max - Men's Premium Shapewear are of high quality with a perfect blend of Meryl Skinlife (65%), elastane (5%) and Polyethylene (30%). The fibers made out of these are also called techno fibers and contain the properties of both natural fiber and benefits of manmade fibers. These yarns made are durable, light in weight, strong, can be shaped easily and highly resilient. They are good in elasticity and have a long life.
If you visit the online store of Strammer Max - Men's Premium Shapewear, you can see that there are many offers for you to enjoy at much affordable prices. You can find round neck as well as V-neck shapeware shirts to pick your choice according to your comfort. There are a few bundle offers as well where if you buy 3 Shapewares at a time you can enjoy a discount of about 20%.
In all, you get a product, which helps you shape your body, burn fat, and a money back guarantee if you are not satisfied. Customer reviews make them a good deal and if you want to look good, this is a must try.
Author's Bio
Jamie is a blogger who writes a lot about Shapeware products. All his reviews are based on personal experiences and intensive research. This is why his review for Strammer Max makes the product worth trying for those who want to look good in every face of life be if personal or professional