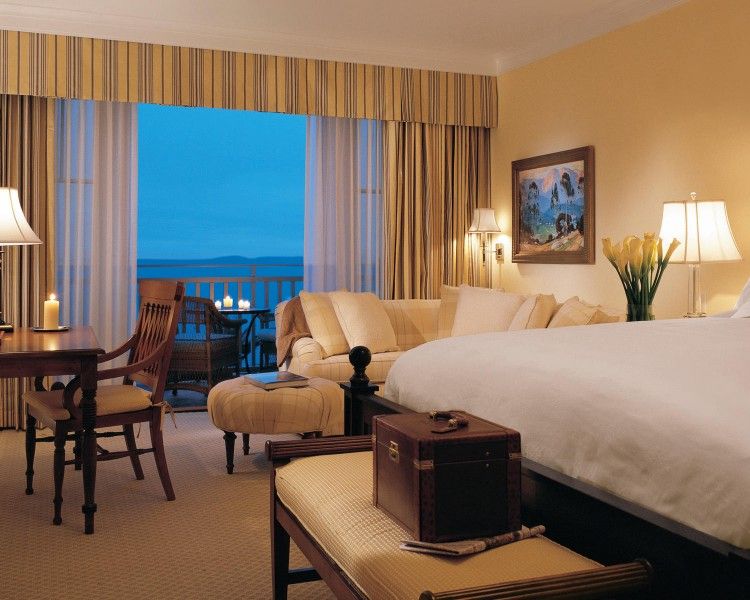 Montage
It's hard to beat Southern California in the winter. Toasting with a glass of eggnog when its 62 degrees is wonderful; cold snow and ice do not enhance the experience. If you're lucky to arrive at Laguna Beach's iconic Montage resort this winter, then you're about to indulge in an exceptional winter retreat. Here are my favorite finds from a recent stay.

Start with the setting: Everyone who enters the Montage drifts in the same direction, almost as if in a trance. I watched it happen several times while sipping a latte, listening to the light live piano one late afternoon. Past the concierges and reception desks and beyond the bar and well appointed lobby is a magnificent open balcony overlooking the Pacific Ocean. Framed by lofty palm trees, manicured lawns, and a massive glimmering pool, the view promotes the Montage's tone of elegance assisted by Mother Nature's commanding grandeur. I could almost hear sighs of relaxation as people took in the view, feeling a calm sense of joy rolling over them.

The resort's 250 rooms are located on the floors below the lobby, closer to the direct access to the beach and the property's meticulously maintained and landscaped 30 acres. I loved being able to stroll right on the beach, just steps from our room, as many of the area's best properties do not enjoy the luxury of actual beach access. The Spa at the Montage takes advantage of this exclusive privilege and offers several complimentary wellness classes, including the Thalassic Beach Walk, a leisurely and informative barefoot walk in the surf and sand.

Locally commissioned art works are sprinkled throughout the property, a homage to Laguna Beach's acclaimed arts scene. My favorite, a porcelain-tiled mosaic mural depicting the sea, was created by Dora De Larios, whose works appear around the world in tropical locales.

Seeking solitude at the Spa: A true testament to the quality of Spa Montage is its staff. A collection of many of the globe's best therapists, the staff of Spa Montage is completely composed of American Spa Therapy Education and Certification Council (ASTECC) graduates. Graduates of this program are Master Degree holders of wellness and spa service, and it was easy to notice the level of expertise and caliber at Spa Montage. My therapist, Suzanne, had been trained in India and Bali, served the Royal Family of Saudi Arabia, and treats a number of Hollywood's favorites. She's been at the Montage since its opening in 2003, as many therapists have, as it is "The West Coast leader in spa therapy."

I love the indoor/outdoor hacienda-inspired design of the spa. "Inside" are fireplaces and comfy chairs, while "outdoors" is a plunge pool, saunas, and hot tub. Three of the 21 treatment rooms feature private outdoor relaxation spaces as well. I enjoyed a wonderful deep tissue massage, customized to my sore calve and thigh muscles. Had I extra time, I would have opted for one of the Spa's specialities acclaimed by many professional athletes: Hydrotherapy. Half hour sessions using powerful water jets in a sea mineral pool alleviate stress, relieve joints, and help fluid retention. I'll be back for this, for certain!

Find Bliss in these December delights: The holidays are indeed happy at the Montage. Nearly every day features a festive treat, available to guests and locals. Decorate holiday cookies alongside noted pastry chef Lee Smith on December 10th or try your hand at the Raclette Making class on December 16th, where guests will learn how to make the classic Switzerland winter indulgence. I plan on making the Eggnog tasting, put on by delight duo Sommelier Troy Smith and Chef Casey Overton on December 21st.
Montage
Montage